The Party is Over: Gronk's Retirement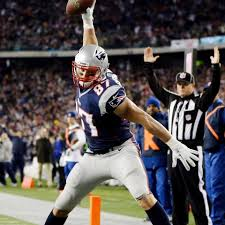 Domenic Casparriello '19
April 5, 2019
Hang on for a minute...we're trying to find some more stories you might like.
"Yo Soy fiesta!" The Patriots not-yet legendary tight end Rob Gronkowski exclaimed after a tight win in the AFC Championship game against the Baltimore Ravens in 2012. Although it was only his 2nd year in the league at the time, "Gronk" was already becoming a household name across the NFL.  
Seven years and three Super Bowl wins later, Gronk's fun-loving character and explosive play has cemented his legacy in Boston as stuff of legends. Oh, and he's also one of the greatest tight ends of all time.
Gronkowski's journey began at The University of Arizona as an injury-riddled tight end with top ten talent. Every team overlooked him to some degree due to his injuries, and there were even doubts about his ability in the days leading up to the NFL Draft. One NFL expert Greg Bedard had tweeted, "People are high on Arizona TE Rob Gronkowski? I don't see it. At all." It is safe to say he wishes he could retract that statement.
When eventually drafted 42nd overall by New England, he made a quick impact both as a blocker and a receiver downfield. Surrounded by mediocre talent at the wide receiver position, Gronk quickly became Brady's top target as a rookie, racking up 10 touchdowns as a 21 year old.
In Gronkowski's first two seasons, he made his presence felt, scoring 27 touchdowns in 32 regular season games. Better yet, he had not suffered any injuries in his first two seasons, and concern of his injury history quickly faded. That was of course until his 3rd year in the league, when blocking during an extra point caused him to shatter his forearm and miss 6 games in the 2012 season.
After returning, he stayed healthy until the 2013 season, when he again broke his forearm and underwent multiple surgeries to repair it. This process became complicated when one surgery caused infection, thus leading to another. The messy ordeal compiled with a surgery to repair a herniated disc in his back caused the star tight end to miss another 6 games to start the year. He would wear an arm brace for the rest of his career. As if this wasn't bad enough, a nasty low hit in the open field by TJ Ward in Week 13 tore Gronkowski's ACL and MCL, causing him to miss the rest of the season.
From 2014 to 2016, Gronkowski enjoyed great success in the NFL while staying relatively healthy by his standards. He averaged 75 receiving yards per game and scored 26 touchdowns in 38 games in that span until suffering a colossal blow against the Seahawks. Safety Earl Thomas gave Gronkowski, "probably the hardest hit in my career," he later said. It effectively ended Gronkowski's season in 2016, and kept him literally off of his feet for a few months while he recovered from yet another back surgery. He missed Super Bowl 51, the game against the Falcons where Brady and company completed a miraculous comeback in one of the greatest football games of all time.
It is sad to say that ever since that hit, Gronkowski was never the same. Upon his return, he lacked the burst of speed that we had become so accustomed to seeing. Additionally, his yards after catch and after contact seemed to trend less and less. But despite him being hindered after the 2016 season, he was still able to put up over 1,000 receiving yards and 8 touchdowns in 2017. However, many Patriots fans saw this as a massive sign of regression for the legend, given his previous dominance in the league when fully healthy.
During the 2017 season, Gronkowski stayed relatively healthy, playing in 14 regular season games and grinding out the playoffs despite being banged up. In Super Bowl 52 against the Eagles, Gronkowski had nine catches for 116 yards and two touchdowns on 15 targets. He looked like a younger version of himself, and gave his team a chance to win all the way through. That said, the Patriots lost a heartbreaker, and the Eagles became World Champions for the first time.
In a post-Super Bowl interview hosted by the NFL, Gronkowski reflected on the season and the loss, "It stinks to be on this side, for sure," Gronkowski remarked. "This stinks…I guess we've got to keep our chins up because we put a lot of work in, we put a lot of work in for each other and it just didn't end the way we wanted to."
Shocking reports came out shortly after, claiming Gronkowski would contemplate retirement in this offseason, a notion that shocked fans everywhere. 'Gronk' later confirmed these rumors during an interview, saying he would take some time to assess his future. Many wondered how such a successful, dominant, and physically imposing man could walk away from the game of football, a game that many feel he has so much more to give towards. Age certainly wasn't an issue, as Gronkowski was only 28 years old after the Super Bowl loss to Philadelphia.
After weeks of uneasiness among the media and the entire NFL, Gronkowski announce via social media that he would be returning for another season.
"I met with Coach today and informed him I will be back for the 2018 season with the Pats," Gronkowski posted on his Instagram page.
After a magical season with the 2018 Patriots which ended with a Super Bowl win for New England, Gronkowski again said he would contemplate retirement in the offseason. A month and a half after the Super Bowl, Gronk announced he was finally hanging up the cleats, shoulder pads, and helmet to move on to bigger and better things in life. His message to the fans, teammates, coaches, and families was posted on Instagram and was truly tear-jerking:
"It all started at 20 years old on stage at the NFL draft when my dream came true, and now here I am about to turn 30 in a few months with a decision I feel is the biggest of my life so far. I will be retiring from the game of football today. I am so grateful for the opportunity that Mr. Kraft and Coach Belichick gave to me when drafting my silliness in 2010. My life experiences over the last 9 years have been amazing both on and off the field. The people I have meet, the relationships I have built, the championships I have been apart of, I just want to thank the whole New England Patriots organization for every opportunity I have been giving and learning the great values of life that I can apply to mine. Thank you to all of Pats Nation around the world for the incredible support since I have been apart of this 1st class organization. Thank you for everyone accepting who I am and the dedication I have put into my work to be the best player I could be. But now it's time to move forward and move forward with a big smile knowing that the New England Patriots Organization, Pats Nation, and all my fans will be truly a big part of my heart for rest of my life. It was truly an incredible honor to play for such a great established organization and able to come in to continue and contribute to keep building success. To all my current and past teammates, thank you for making each team every year special to be apart of. I will truly miss you guys. Cheers to all who have been part of this journey, cheers to the past for the incredible memories, and a HUGE cheers to the uncertain of what's next."
Gronkowski, still only 29 years old, has made his mark on the history of NFL and will go down as a top 2 tight end all time. He scored 79 touchdowns in his Hall of Fame career, and has accumulated 7,861 receiving yards, not to mention yards and scores in the postseason (1,163 Yards, 12 touchdowns in 16 games).
As Josh McDaniels, the Patriots offensive coordinator put it via an NBC Sports quote, "There will never be another Gronk." His sheer dominance and freakish athleticism whether in the blocking scheme or via running routes made Gronkowski unstoppable. It is truly disappointing to see a plethora of injuries derail the longevity of his career, but his impact on the city of Boston and the region of New England will be remembered for lifetimes.
Patriots Tribute Video to Gronkowski: