Celtics Offseason Predictions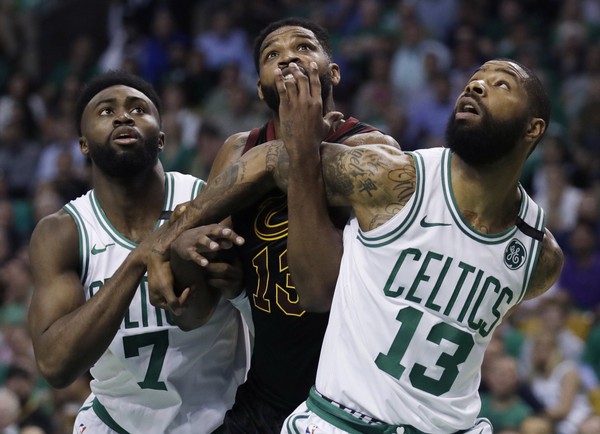 June 1, 2018
Filed under Sports
Hang on for a minute...we're trying to find some more stories you might like.
By: Jack McGinn and Eric Gould
The Boston Celtics had one of the most surprisingly successful seasons in team history. The season was a result of incredible play from the surplus of upcoming talents on the roster. The Celtics got significant and encouraging performances from many players still on their rookie contracts: including Marcus Smart, Terry Rozier, Jaylen Brown, and Jayson Tatum. However, some of these rookie contracts are about to expire, and the Celtics will have to make difficult decisions knowing that they will inevitably be spending nearly a billion dollars in luxury tax in order to retain their combination of young talent and established stars.
The Celtics are already over the salary cap, but they won't have to break the bank for many of their free agents this offseason. Their free agents this offseason include Marcus Smart, Aron Baynes, Greg Monroe, ShaneLarkin, and Jonathan Gibson. Marcus Smart is a restricted free agent, which means the Celtics can match any offers he receives. We predict he'll re-sign with the Celtics for 3-4 years at about $12 million a year. We anticipate the Celtics will re-sign Aron Baynes for slightly more money than the $4.3 milion he's making this year, and they will let Jonathan Gibson and Greg Monroe walk in free agency. Gibson could latch on with another team, and letting him go would clear a spot for a younger player who could potentially play a role for the Celtics in the future. Greg Monroe was supposed to be a significant mid-season pick up for the Celtics, but his inability to defend the pick-and-roll and the quicker big men which are becoming very popular in the modern NBA made him unplayable at times.
One of the biggest conundrums the Celtics face this offseason is deciding what to do with rising star and fan favorite Terry Rozier. With the season-ending injury that Kyrie Irving suffered, Rozier has stepped up very well, and has seemingly outgrown his role for next year. Rozier is a free agent after next season, and there's a strong possibility he would be offered a large contract and a starting role by another team. The Celtics also have to act because Kyrie Irving is due for a massive contract at the end of next season as well. We could definitely see the Celtics trading Rozier during the offseason, and trading him for a draft pick would probably be the best way to maximize his value and retain an affordable asset for multiple years. Some possible trading partners would be the Orlando Magic, who pick sixth, and the Memphis
Grizzlies, who pick fourth. Rozier and the Celtics' 27th overall pick could be enough if either of those teams are truly invested in moving back in the draft. In the fourth or sixth slot in the draft, the Celtics will be looking at taking talented prospects like Michael Porter Jr., Marvin Bagley, Mo Bamba, or Trae Young. All of these young and talented prospects could make a huge impact for a Boston Celtics team that is primarily looking to make a serious run for the NBA championship next year.
Overall, the Celtics had a pleasantly surprising playoff run without two of their superstar talents in Kyrie Irving and Gordon Hayward. It will be very interesting to see how GM Danny handles the NBA offseason, as there are many moves that could be made. Ainge has already commented on this run, saying "We're not looking to make changes other than small tweaks here and there to our roster. We really do like this core group of guys that we've had all year." With some minor improvements to the current roster, we could see the Celtics being a serious contender next year and many years to come.