Congressman Jim McGovern Talks to WHS Seniors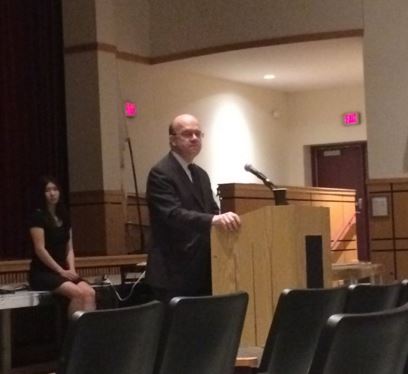 Hang on for a minute...we're trying to find some more stories you might like.
By Carly Flahive
On February 1, Westborough High School seniors welcomed Congressman Jim McGovern to their auditorium where he spoke about his position in government and current issues and topics discussed in the world today. It is a rare opportunity to have a political leader  visit WHS. Faculty members joined the senior class to hear what McGovern had to share. Students  were pre-chosen to ask questions about McGovern's position or world concerns, which helped to guide the discussion.
"It was a good experience to have a congressman talk to us about politics," says senior Kaylie Doherty. "It helped us gain awareness for the world around us," adds senior Sara Houle.
Although the students who attended may not have all been politically inclined, most everyone was able to pull something away from McGovern's talk. Senior David Beliveau explains, "Personally, I'm not huge into politics, but the way McGovern came in and promoted voting in our community showed how we need to be active."
With the upcoming presidential election this year, it was interesting to have received some general information about how politics work through an important local political leader.