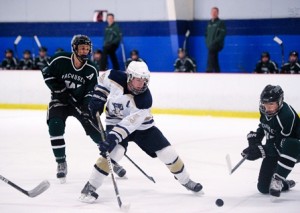 David Belbin has officially taken over head varsity coach for his first season ever here at WHS. Hockey season is around the corner. In just a couple months, the 2023-2024 Westborough High boys Varsity team will be back on the ice. Westborough students, players, and coaches are starting to prepare and the anticipation is high. But this season may be a little bit different.
Previous head coach Chet Hallice has officially retired his spot for it to be taken over by David Belbin. Belbin is experiencing his third year being a History teacher at WHS. We got to speak with Belbin about this upcoming season and what we should all expect from him and his team.
Belbin was assistant varsity hockey coach for the past four years here at WHS and assistant varsity baseball coach for the past three years. Belbin is very involved in the sports community here at Westborough and is very familiar with the team already. In his younger years, he ran skills and development camps for young players and coached junior club teams in the summers. All of this past experience gives us no doubt he is prepared for this role. 
Belbin has a serious hockey background starting from a very young age. He started skating at the age of three and played for Marlborough Minuteman Flames for several years. Moving into his highschool years, he attended Shrewsbury High and led his team to a state championship as captain. He played club hockey at Saint Anselm college and transferred to play for Assumption University in Worcester. 
Planning for success this season, Belbin talks about his strategies. He says, "this year the focus is going to be on making sure that we are competitive… and making sure we are prepared for a situation." He plans to do this by implementing some new plays. Adding onto that, the goal is to build out from the goal line, which will then lead to offense. 
Talking about the season overall, Belbin and the team are very excited. It is a new year coming off of really great success in previous years. This includes making it into the state tournament. They look forward to their fans coming to support, and in the words of Belbin, "hope to have something very special this year."
Team chemistry is a very important aspect of a successful game and according to Belbin, his captains, Brendan Martel and Chris Pascale, and assistant captains, Connor Cashman and Max Aires, will help build this chemistry with the younger players. They have shown that they are "tremendous leaders", and he believes they will have a great impact this season. 
When asked about his goals for his players, Belbin thought of former Bruins player, Patrice Bergeron. Belbin explains why he is such a role model to many. Belbin says " he was a tremendous athlete, a tremendous hockey player, and his knowledge of the game is second to none." The way Bergeron treats members of the community stands out to him. He wants his team to act like Bergeron.  He says, "In terms of what we try to do here as student athletes, it is not just on the ice or in the classroom, but what can we do for other people." 
A lot of Belbins' experience was influenced by his dad, a former head hockey coach. Ed Belbin, a former history teacher here at WHS, is known by many for his leadership in athletics as well as the classroom. Belbin says " He has had a tremendous impact on me as an athlete, and I've learned a lot from him." His dad coached him throughout his whole life, both as a player and as an assistant coach. They talk through new ideas and strategies together. He says his dad has impacted him "not only as a coach, but as a person".   
The first tryout date is November 27th with the season starting promptly after. This season is coming up fast and we wish Mr. Belbin the best of luck with this new role.