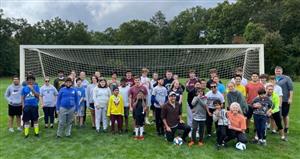 Unified sports are not as recognized as the typical high school sports most students participate in. The unified sports program continues to grow in Westborough as high schoolers begin to realize the importance of inclusion. Integrated sports are extremely valuable to many teenagers who have disabilities.
Opportunities for those with developmental and intellectual disabilities are rare. Many teenagers with disabilities struggle to find ways to be involved in extracurriculars. Sports offered through school are often competitive and not able to provide inclusion to those who require extra support. The Westborough Recreation program offers different sports that focus on inclusion rather than the competitive side of sports. 
To unified sports leader, Ilyse Kanji, inclusion is important and beneficial for all who take part in it, "I always knew inclusion was beneficial for people with special needs because they have fewer opportunities for social interaction." Knaji got involved in unified sports almost 20 years ago, she is passionate about the cause because of her own son who has autism. "I loved being able to sit and just relax on the sidelines watching my son play sports, and experience what most parents of neurotypical kids take for granted," Kanji explained that she was excited for her son to be able to play sports even with a disability. After seeing the positive impact unified sports made on her son, Kanji decided to fill the Special Olympics coaching position when the previous coach moved. Kanji has found great success with the program, "We've grown the program to 11 adult coaches between 3 seasons, with about 80 kids playing soccer and basketball." 
The support from Westborough High School students, clubs, and organizations while growing the program has been extremely helpful to the coaches and organizers of unified sports. "We've been very grateful that different WHS students have led a very popular Zumba-like dance class based on the Unified Sports model." The unified dance program continues to grow yearly and is enjoyed by the participants. The support from WHS students highlights inclusion. 
The unified soccer program has also received a great amount of support from the Westborough community and high school students. Athletes enjoy playing soccer without the competitive aspect of the sport. Kanji explained that since joining the unified soccer program her son has continued to play soccer. Her son is now 25, "Special Olympics has remained a big part of his life year-round.  He currently plays soccer, basketball, and softball and runs track." 
The unified sports program in Westborough has become a great success and continues to be very highly valued by those who participate. Other activities such as unified track and baseball run during the spring. The organizers of the program are hoping for even more volunteers this spring to continue to spread inclusion.