Senior Testimonial: Will Schiffman: Don't Weather the Storm, Be It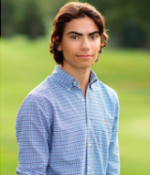 Hang on for a minute...we're trying to find some more stories you might like.
Will Schiffman '19
These past few years have been the best years of my life and I can't believe it's almost over. I have met so many people who have helped me succeed and prepare for my future. I have been so lucky to have these people in my life including friends, teammates, coaches, and teachers. High school has taught me so much:  organization, balancing sports and school work and patience. It's also taught me about diversity through my work on The Lobby Observer  and as a New Student Ambassador.
But what I have learned most in high school is how to be resilient. I'm sure everyone can attest to the fact that high school has its ups and downs. But I learned that you can't sulk in the times where things are not going your way. You have to stop feeling sorry for yourself and get up and make a goal and work for it.
I have been on the WHS hockey team since my freshman year. Becoming the starter was a long process that meant opening doors until my junior year when I became the starter. My first season was a very tough transition in becoming a big role on the team. I had the weight of a high school team on my shoulders for the first time. I started off the season with being awarded all tournament team in the boro's Cup.
But as the season went on more and more pucks went by me. I felt that I was letting my team down because of the way I was playing. I let every puck that went past me get into my head. When I let in a goal I felt I single handedly was losing the game for my team. I believed I was a liability for the team, and I started to lose confidence in myself after being pulled from my net multiple games. This lack in self confidence on the ice transitioned into my social and daily life. I would isolate myself some days at school because I was depressed about how I was playing. I helped my team stay in games down the stretch and into playoffs, but I knew that I didn't want to settle for the way I was playing.
Being a goalie is just as much a mental skill as it is physical. You can't think about the pucks that have gone in the net because thinking about the past mistakes prevent you from stopping future pucks. You have to learn how think think in the present and stay even keel. After a big save you can't get to excited because you will think about your past save instead of the shot coming. I wrote "W.I.N" on my stick and got it painted on my helmet to remind me to worry about "What's Important Now."
Senior Year
I am also an avid golfer and most days during the summer I am either working on a golf course; cleaning carts or caddying, or playing with friends. I tried out every year for the golf team making JV my sophomore and junior year. Senior year was my last chance to make varsity. I was at the driving range, the putting green, and on the course everyday practicing. After a bad first round I shot my best round of golf I had ever had, but it was not enough. I missed the varsity cut by one point. I was devastated. I felt cheated, I spent the last four years trying to get on this team to play with my friends and coming that close to making the team and missing it by that much killed me and my confidence. I questioned myself and my abilities as an athlete after a tough hockey season and not making the golf team.
Going into my senior year after failing to make the golf team, I was feeling very down about myself. But one day I decided to stop feeling sad for myself. I had to stop thinking about the puck that already went in the net. I set a goal for myself; to be the best goalie I could be and help my team to be the best we could be.
I was on the ice everyday in the summer training and twice a week in the fall for the season ahead with my goalie coach. This was my last year to play for my school and team and I wanted to be the trustworthy backbone for my team. As Bruins goalie Tuukka Rask said "try to weather the storm, try to be the storm." I wanted to stop waiting for bad things to happen, and focus on making good things happen.
Everything I had worked so hard for through my hockey career, all the training, the practices morning and night culminated in an unforgettable season. I led my team to the Boro's Cup final while being awarded all tournament team. I helped the team document one of the best regular season in over a decade with a 12-8 record. For the first time we secured a home playoff game, getting the whole Westborough community to come support us. I raised my save percentage to 90.2%,up 7% from junior year.
I was confident in myself and my team was confident in me, #mulletmentality. Being recognized by Metrowest Daily News and Central Mass Hockey as an all star was one of the highlights of my year. After having a underperforming junior season and not making the golf team at the beginning of my senior year, it felt so much sweeter to be recognized for all the hard work I had put in.
I did not let these failures define me. I learned that what happens in the past is history and it can't be changed. I know now that it doesn't matter if you fall down or how many times you get knocked down by anything that life throws at you. It matters whether you make the decision to get up and have the persistence and dedication to keep going.