Westborough Resident Strouse Rocks Kindness Throughout Town
You may have noticed the painted rocks all over town. These colorful rocks often have kind messages or quotes meant to brighten your day.
About four years ago, Westborough resident Theresa Strouse was inspired by a team of fourth-grade teachers from Mill Pond Elementary School to paint inspiring words on rocks and spread them throughout the town. Strouse had been working with teachers who had their students each paint a rock with an inspiring word on it. The students could either keep the rock or give it away. The teachers learned about Kindness Rocks from The Kindness Rocks Project, Cape Cod. Strouse loved the idea and decided to continue to create these rocks.
Strouse is currently a para professional at Mill Pond School. She works with Ms. Kilpatrick, a fourth-grade teacher, who has incorporated the rocks in her social-emotional learning lessons. She enjoys watching the students choose a rock to keep on their desks for inspiration.
To Strouse, gratitude/kindness means "being grateful for each day and not taking anything for granted."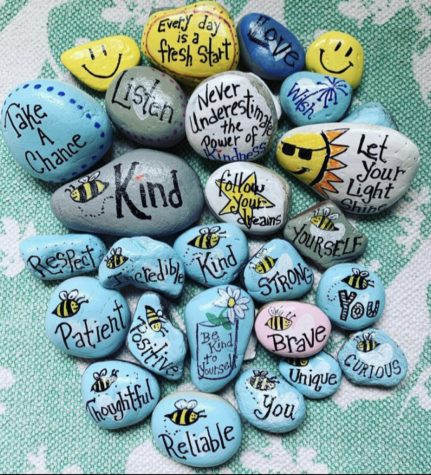 She is grateful for her sister and best friend who collect rocks at the beach for her to paint. Strouse explained that the purpose of her Kindness Rocks is to spread kindness, make people smile, and leave those who see the rocks with an inspiring message.
Strouse chooses to put her rocks outside of places such as schools, nursing homes, and stores. Sometimes when Strouse goes on walks she brings rocks with her to put on sidewalks or trails. Strouse spreads her rocks throughout Westborough as well as Colorado, Florida, and up the East Coast to Maine.
Strouse has received very positive feedback from people in Westborough who have discovered the rocks not knowing that they were hers. She often sees pictures of her rocks on social media from people who appreciate and enjoy them. Strouse has even seen people participate in creating their own Kindness Rocks, it makes her happy to see that she is making an impact on others.
Strouse continues to spread kindness around Westborough and throughout other states with her Kindness Rocks. She paints a small red heart on the back of each rock as her signature.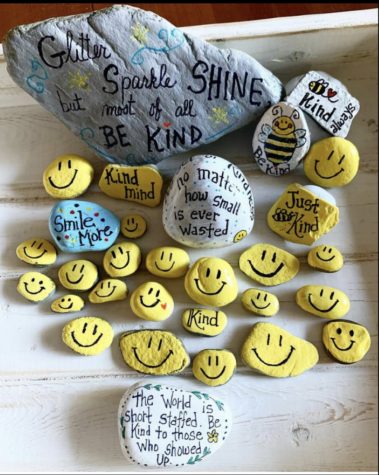 Strouse's mantra is: "I believe that Kindness Connects us all!"