WHS Hockey Senior Night this Wednesday; Team Needs 2 More Wins to Secure Play-Off Spot
This Wednesday, February 8th, the Westborough boys hockey team will take the ice against Auburn celebrating their senior night. They are led by senior captains Jake Dapolite and Garrett Barriere, assisted by seniors Jon Lahue and Will Yearick. The team also has four other seniors: Quinn Campbell, Ted Miller, Bradan Duggan, and Owen Lenkauskas. 

Dapolite said,

"

"I am very excited for this game, seeing all the seniors get to celebrate this game and now it's our turn, it's so surreal.

— Senior Captain Jake Dapolite '23

The team is feeling pretty determined to win these last few, especially senior night." 

He then added, "We can compete with any team. We've been working hard before and after school."

Yearick shared that the key to winning against Auburn this Wednesday is to "keep shifts short considering we probably will miss some players come Wednesday night." 

He also expressed he's not concerned about missing players as "we've played through adversity before." 

Yearick then continued on to express that a key component to the Ranger's success this season is offensive players Teddy Miller and Bradan Duggan. 

"Ever since Duggan and Miller got on a line together part way through this season, the goals started coming," Yearick commented.

The Rangers are sitting at a comfortable 8-8 record as they look to advance to 10-8 to close out the season with Auburn this Wednesday and then against Hopedale on Saturday, February 11th.  

If the Rangers can secure these next two wins, then they qualify for playoffs, which will begin after the central mass tournament.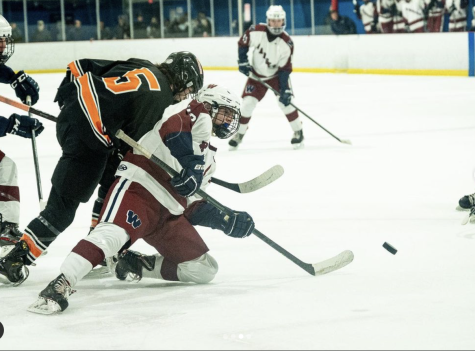 Barriere shared, "I feel good approaching the postseason, we have faced a lot of adversity this year and that will help us go far. All the challenges we have faced and overcome this season have made us strong and we never give up."
Lahue commented, "This season has been special so far because this team has definitely come together and supported one another. I feel like we haven't had a group of kids this close to one another in the four years I've played hockey here." 
Lahue continued on that for him personally, "This season has been especially special as I got to play with my younger brother, a freshman, for the first time which has been a great experience."
Wednesday night's theme is USA, make sure to wear all your red, white, and blue to show your support as the Rangers look to go 2-0 against Auburn for the season. The game will start at 6:15 p.m. at North Star Ice Sports.