Visiting Vivacity- The New Downtown Craze
Vivacity Wellness and Nutrition, located in downtown Westborough, is a small cafe with nourishing snacks and drinks. The local attraction opened on September 11, 2021, and is frequently talked about at Westborough High School for not only its delicious drinks but for its message. The business prioritizes mental health by putting uplifting stickers on every drink and creates a safe environment for its customers. It is apparent that the owner, Maddie, truly cares about every one of her customers.
My first time visiting Vivacity, I was greeted by the owner, Maddie, and another employee upon arriving, and they were helpful and informative about the drink menu. I immediately felt relaxed in the cozy environment, as there is a couch, blankets, a bench, and many decorations that fill the small space.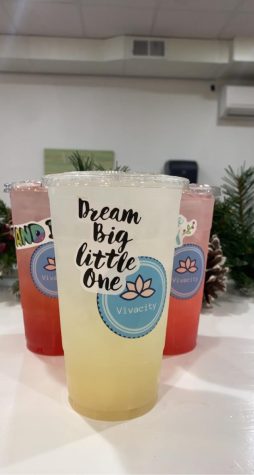 Every time I go to Vivacity, I get an iced tea because they are rejuvenating. My top three favorite iced teas that Vivacity offers are Pink Margarita, Strawberry Lemonade, and Arnold Palmer, in that order. 
Pink Margarita is a sweet drink that tastes like the candy, Skittles. This drink is the most flavorful tea I have ever tasted, and it is refreshing on both warm and cold days. The iced tea is packed with vitamins and nutrients to keep me filled for the remainder of the day. 
Strawberry Lemonade is my second favorite drink, and it tastes just like the name. The drink has a powerful strawberry taste with subtle hints of lemonade in it. I prefer this drink on days where I am looking for a less sugary drink. 
My third favorite drink from Vivacity is Arnold Palmer. This is a citrusy drink with a strong lemon flavor. This iced tea tastes similar to the original Arnold Palmer iced tea, but it has an abundance of lemon. Thus, the drink is less bitter than the brand Arnold Palmer itself. 
Overall, I prefer going to Vivacity over any other drink place because I like how large the drinks are for their price and how every item is customizable. Customers can select how much caffeine they want in their drink, which is convenient because, on days where I go in the morning, I prefer to have more caffeine in my drink than on days where I go in the afternoon. Customers can also choose if they want specific wellness teas like a fat-reducing refresher or a green juice cleanse, and they can add certain boosts to their tea like collagen and biotin, fiber, and immunity shots. The amount of flavor that Vivacity's tea has is substantially more than tea from Starbucks or Dunkin. None of the drinks are watered-down or bitter, but rather, they are all packed with an abundance of flavor and healthy vitamins. 
Vivacity Nutrition and Wellness is located on 3 Summer Street in Westborough, MA. Their store hours and menu are posted on their Instagram page @therealvivacitynutrition.