Therapy Dogs at WHS Bring Comfort and Joy to Students and Staff
Most can agree that pets can instantly lift up the mood of anyone's day, especially during a time of stress and anxiety. Here at WHS, Mental Health Counselor Stephanie Glenn has taken this into consideration, and allowed for therapy dogs to visit during lunches. By putting together this program, it has given students a way to decompress during the school day and has put a smile on so many faces.
Believe it or not, before working in the mental health field, Mrs. Glenn did not know much about therapy animals at all. By connecting to her own experiences of owning a dog when growing up, she was aware of how positively they can affect one's life.
While emphasizing the role an animal can have on a person's mindset, Mrs. Glenn states, "Animals elicit certain emotions in people and allow people to feel vulnerable in a safe way, and I think that's an important thing to have here at WHS for students and faculty."
Over the past few years therapy dogs have been visiting the school on what's almost a week to week basis. Originally they only came to visit during high stress times such as midterms or finals. Since then, the animals have made more appearances as it is a refreshing break in anyone's day, no matter the time of year.
As of now, Mrs. Glenn has been in hopes of advertising when the dogs will be coming to lunch since it can sometimes be easy to miss. Due to the food safety risk, animals cannot be allowed in the cafeteria, so when looking to see one, they will be in the lobby area.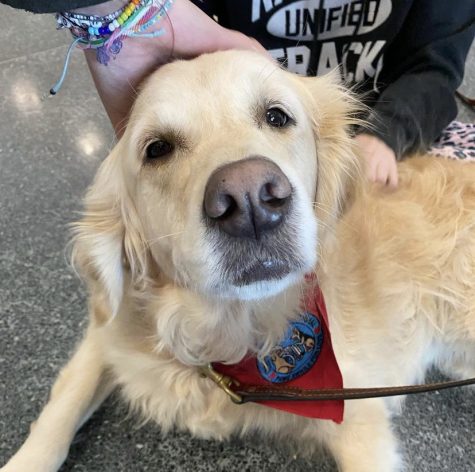 While therapy animals benefit students, adults can be affected by them too.
Mrs. Glenn says, "I think that the impact a therapy dog can have on students' mental health and even a staff's as well is just a friendly, furry welcome in the day, and it's sometimes nice to take a break and hopefully take an exhale."
Thus far, only positive comments have been heard; however, Mrs. Glenn says, "I have not ever personally heard any negative feedback, and I'd hope that if there was some sort of feedback people would feel comfortable giving it. I'm not sure that they'd know who to give it to, which is why I am so excited for the interview."
If there are any further questions or concerns about the WHS therapy animals, feel free to contact Mrs. Glenn at: [email protected]
To stay up to date, you can follow the Instagram as well: @whstherapyanimals
Note: Anna Bernat '25 co-interviewed Mrs. Glenn for this article.