Testing and Tasting Popular Quarantine Recipes
With lots of time on our hands due to quarantine, people have come up with many new ways to stay busy. Baking has instantly become a hobby for people to occupy their time, and they get a delicious and rewarding end result. All this baking naturally means that people have been sharing all of their successful recipes, especially over social media platforms. I tested out the popular recipes for Dalgona Coffee, 5-ingredient cookies, and the official Disney Parks released churro recipe.
The first recipe I tried out was for Dalgona Coffee. Pictures and videos of this fluffy whipped coffee dominated the internet. I stuck to the classic recipe: 2 tablespoons each of instant coffee, sugar, and warm water. I whisked the ingredients together until the mixture formed peaks. Then I dropped the whipped coffee over a glass of milk and stirred it all together.
The first time I tried to make the coffee, it was unsuccessful because I thought the amount of sugar was outrageous, and only put in about a quarter of the suggested measurement. However, I attempted it again with the full 2 tablespoons, which took away the bitterness of the instant coffee. Although the coffee was definitely drinkable, there was nothing too special about it. It tasted like there was extra-sweet whipped cream stirred into iced coffee. As a coffee drinker who will have at least two cups per day, I'd be more than happy to just continue drinking my typical coffee with a splash of cream.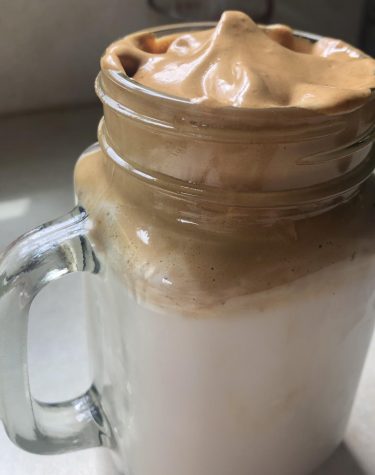 The next recipe I tried was the five-ingredient cookies that constantly popped up on Tik Tok. The cookies just required five ingredients to be stirred together: 1 cup of brown sugar, 1 cup of peanut butter, one egg, 1 teaspoon of baking soda, and ½ cup of chocolate chips. I used crunchy peanut butter because that's all I had. I also decided to mix in 1 teaspoon of vanilla extract and ½ teaspoon of salt, although this wasn't in the original recipe. Still, I made the dough faster than the oven could heat up to 350℉. I formed the dough into a dozen balls, placed them on sheets lined with parchment, and threw them in the oven for about ten minutes.
The cookies looked delicious and smelled even better. They were super crumbly though, even after cooling. I gave one to my dad to test first, because I was scared to. All he said was, "I love them." Then I tried them. I never would have been able to guess that the recipe only called for a handful of ingredients. They're crumby and definitely not "bakery-quality" , but this recipe is a perfect way to satisfy your cravings for a sweet and salty dessert, easily and quickly.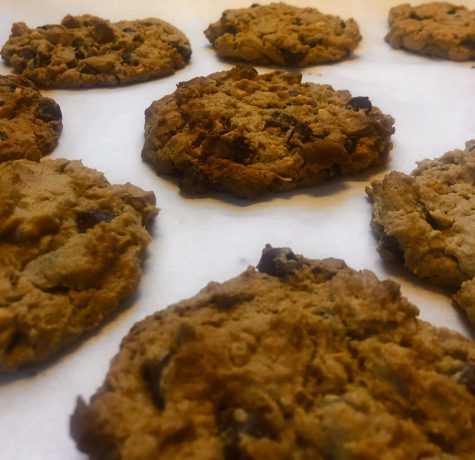 Many places have been releasing their iconic food recipes: McDonald's released how to make their Egg McMuffin, Ikea released their Sweedish meatball recipe, and the Double Tree released their cookie recipe. I chose to try out one of the handful of recipes Disney Parks released– their churro bites.
I knew from the recipe that this would be the most challenging recipe I'd try out. First I combined 1 cup of water, 8 tablespoons of butter, ¼ teaspoon of salt, and ¼ teaspoon of cinnamon in a saucepan over medium heat until it boiled. Then I reduced the heat, and added 1 ¼ cups of flour. Once the dough forms a ball, it must be left to rest for 5-7 minutes. Then I added 3 eggs, one at a time.
In the meantime, I heated 1 ½ cups of oil in a saucepan over medium-high heat until it reached 350℉. I scooped the dough into a piping bag, fitted with a star tip. Then it was time to fry the dough: I squeezed the mixture into the oil, cutting it into 1 inch strips. I fried them til they were golden brown, and drained them on a paper towel. The last step is to coat the bites with a cinnamon-sugar mix, made with ½ teaspoon of cinnamon and ½ cup of sugar.
The rest of my family gladly agreed to help me taste-test the churros. They were overall impressed, and the bites reminded them of having a snack at Disney World. I'd recommend this recipe for someone who is willing to put a little more time and effort into their new baking hobby. The cooking of the dough and frying process makes the recipe slightly more complex, but the sweet and crispy dessert makes all of the labor worth it.
In summary, none of these trending quarantine recipes were absolute failures. I'd recommend any of these recipes to make your time in quarantine just a little bit more enjoyable.