Rocco's: The New Donuts in Town
By: Jake Hughes and Dan Bugaev 
Westborough's newest donut shop, Rocco's Donuts, is off to a fast start after opening Thursday, March 21st. Many students came in that morning holding what looked to be like pizza boxes. But, they were in fact very large donuts of all different sorts in this pizza shaped box from Rocco's Donuts. The store gave out 100 Rocco's T-shirts for the first 100 customers to celebrate their grand opening. On top of that, Rocco's sold out their first 2,000 donuts before the school day even ended.
The shop is located where the old Regatta Deli used to be (3 Colonial Drive Westborough, MA 01581) next to the Dunkin Donuts in downtown Westborough. The store is open Thursday through Sunday from 6:00 am to 3:00 pm. There is also the original Rocco's location in Millbury, MA.
This donut shop has far superior choices for donuts than its competitors in Westborough. Ranging from the classic glazed donut to fruity pebbles, to maple bacon donut, the choices feel endless.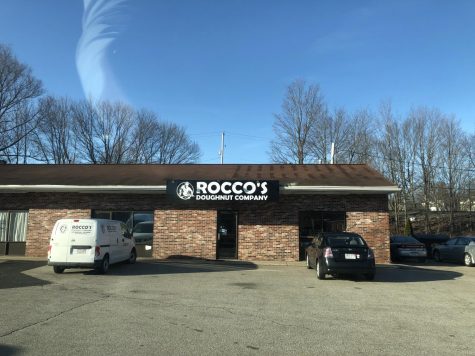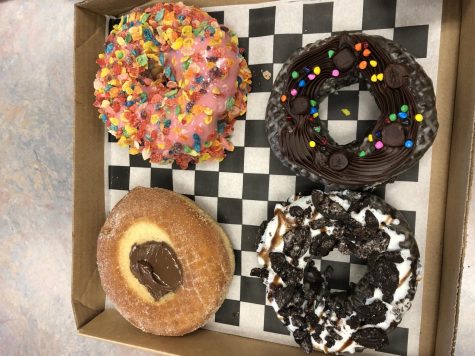 The oreo donut, fruity pebbles donut, and the cosmic brownie are the favorites of many people so far. The oreo donut is a chocolate glazed donut with white frosting and Oreo pieces on top. The cosmic brownie is also a chocolate glazed donut, but with chocolate fudge brownie around the rim. The fruity pebbles donut is arguably the best-looking donut, with pink frosting topped with fruity pebbles on top of the glazed donut.
Another favorite of WHS students is the Cinnamon Nutella donut that is a cinnamon donut with chocolate Nutella in the middle. The store also sells breakfast sandwiches between donuts. The donut is compared to a softer and thinner bagel and isn't as sweet as a traditional donut, but gets the job done.
The store is very nice inside and provides minimal seating by the window. Most people just grab donuts and go and don't eat inside so minimal seating is not a big deal. But, if people do want to eat there, they do have stools by the window sill to sit on while snacking on a donut or breakfast sandwich.
The location is also very good because it is on the way to Route Nine so you can grab a donut on your way to Route Nine if you are traveling that path for work. The only downfall of the location is that the road is very busy and there is often a lot of traffic.
Be sure to try out this extravagant donut shop and leave comments below on what donut you like best!