Breakfast at Stephanie's: New Location in Upton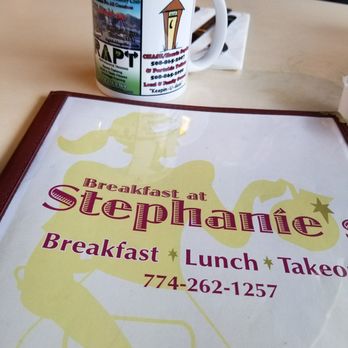 The recently opened new location, Breakfast at Stephanie's is a hidden gem in Upton with extravagant breakfast and lunch menu options. The restaurant moved from Grafton to Upton about a month ago for a larger location as business is thriving. The breakfast place is known for its unique specials.
Since there is no street sign advertising the restaurant it can be hard to find, but it is located at 3 Farm Street, and as soon as you walk in you are greeted by friendly staff and an inviting atmosphere. Customers have an option of choosing to sit at the bar or at a table, as there are smaller tables up front, with a large room in the back with more seating.
Each morning they have breakfast specials that change daily, some including Snickers stuffed french toast, chili omelets, chocolate streusel pancakes, and more. They also have many iced and hot coffee flavors from which to choose. The menu consists of many options; there is a variety of eggs, omelets, combos, breakfast sandwiches, pancakes, waffles, and french toast.  They have many different types of pancakes that range from chocolate chip to s'mores and many more.
Their lunch menu offers sandwiches, wraps, and burgers, and breakfast is served all day.
In my experience, I went with my family on a Saturday morning. It was busy, but we were seated quickly. Although it was overwhelming to pick just one item as they were so many options to choose from, the waitress was able to highlight their signature dishes and make good suggestions. I ordered the Chunky Monkey Waffles which is a waffle covered with Nutella, fresh bananas, and walnuts. My family members ordered the Cinnamon Roll Pancakes, which the waitress recommended, the South Grafton Slam which has a little bit of everything, and one of the specials that day, the Banana and Caramel Stuffed French Toast.
Although there was a bit of wait time before the food came out, it was definitely worth the wait. The portions were very large, and everything tasted delicious and fresh. The food is also overall reasonably priced. Pancakes range from $5.25-$8.95 and Omelets range from $6.50-$10.25. Our waitress gave us great service and didn't rush us out the door as many restaurants do during breakfast hours.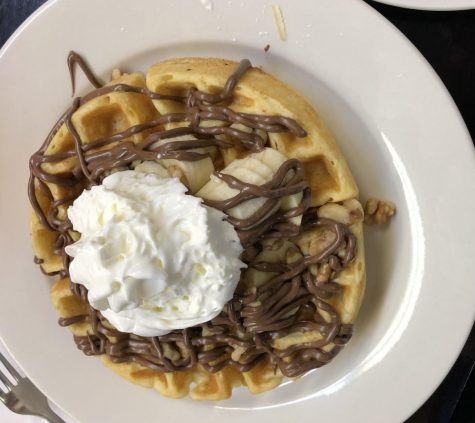 Overall, it was a very positive experience at Breakfast at Stephanie's with the delicious food and great customer service. You'll definitely have to visit more than once in order to try all of the tasty items on the menu.
Breakfast at Stephanie's is open 7 days a week from 6:00am-2: 00 pm located at 3 Farm Street in Upton. You can find more information by visiting their Facebook page. https://www.facebook.com/Breakfast-at-Stephanies-246597192158353/