Ned's Coffeehouse: Two Perspectives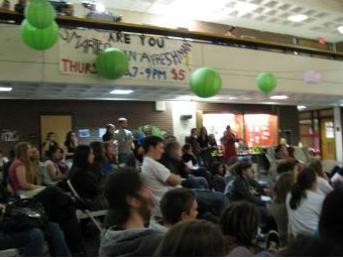 Hang on for a minute...we're trying to find some more stories you might like.
By Andrea Skinner and Erin Reynolds
Ned's Coffeehouse is an annual celebration of Westborough High students' unique talents. Performances included comedy, improv troupe, dancing, and, of course, music. Ned's is hosted by the Westborough High Literary Magazine.
The LitMag staff worked tirelessly to run Ned's Coffeehouse. They were led by their fearless leaders, Rosa Maria Freitas and Ms. Pelletier. The staff transformed the lobby using Christmas lights, bright green lanterns, couches, throw pillows, and rugs. This created a relaxed, cozy atmosphere.
The audience was a little smaller than in years past, but were nonetheless energetic and supportive. Westborough High's talented student body shined that evening. There were fourteen different acts, so the coffee house lasted from 7pm to 10pm. There were many different genres of music and performances; from a beautiful, heartrending singing performance by Chloe Reske and Jessica Potosnk, to the energetic screamo performance from Buried Electric. There was something for everyone!
There was also lots of delicious refreshments at Ned's. LitMag sold Papa Gino's pizza, various baked goods, chips and candy. The also served an assortment of s hot drinks and soft drinks, including Red Bull, which sold out quickly!
Ned's was a great time for all who attended! Here is a first-hand account from sophomore Erin Reynolds.
The music poured from the students' trumpets and fizzled in my veins. My arms and legs moved of their own accord; my head bobbed up and down, filled with the pure, metallic notes of the xylophone. All around me my friends danced, freely and openly expressing their joyful energy.
I was one of the many students that attended Ned's Coffeehouse last Wednesday. I love Ned's Coffee House because I love music and dancing. I appreciated all the acts, but especially enjoyed the acapella groups and a deep, meaningful lyrical ballet dance done by Emrie Smith. I think Ned's is a great showcase of Westborough High's talent. It's really cool to see your friends and classmates producing such quality music. But Ned's isn't all music and dancing! There were poetry readings, a political speech, and the improv troupe preformed. Improv troupe is very entertaining. My favorite improv game is "freeze", because it involves volunteers from the audience. Anyone who wants to can yell "freeze" and jump into the game and spontaneously begin acting.
While the last two bands were playing, everyone stood up and swarmed in front of the stage. This is my favorite part of Ned's because everyone gets to dance. In my opinion it's better than a school dance because you get to dance to students' music. We danced to the music of Buried Electric and 4 hours in the 4th grade. 4 hours in the 4th grade used trumpets and other typical band instruments, as well as as less conventional instruments such as xylophones.
At Ned's you hear a real variety of music; there's something for everyone. It's a great chance to support talented Westborough High students as well as LitMag. So if you didn't go to Ned's this year, you should definitely go next year!