Women In Science and Engineering (WISE) is a club that's been a part of Westborough High School for many years and has gained a lot of popularity, currently having almost 50 members. WISE
2023-2024 president, Gowri Chandran, explains that the club strives to "give back to the community to promote gender equality in STEM fields as a community of women."
WISE has done numerous events in the past year to help introduce more people to the STEM field and accomplish their club's goal. Annually, in the fall, WISE holds their Science Squad, where groups within the club organize activities and experiments to do with approximately 40 students in the Fales Extended Day Program (EDP). All of these activities are aimed to introduce students to science and give them a fun activity to do with their friends after school. 
"We show that everyone can love science – regardless of gender," says Gowri. Additionally, WISE held a town-wide fair at the Westborough Public Library during the spring last year. This had a turnout of around 50 people, but unlike Science Squad, people of all ages attended as many came with their families. Gowri states that it "definitely had a wider impact."
WISE has had a large impact in the last few years, and they hope to continue growing. "I'm happy to say that every year, WISE expands," declares Gowri. "We have new ideas and changes happening every year."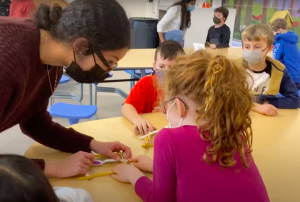 Currently, they have finished working on the Science Squad activities for this year and have started going to Fales on Tuesday, 10/31. After the Science Squad in Fales is over, the club will start to work on a new event.  WISE members will work with Gibbons students to create activities to jointly present to around 50 kids in the Armstrong EDP. 
When asked how WISE has helped her personally, Gowri had a lot to say. "I really loved the community I gained. It's literally a club of women. I love working with everybody there, and everybody is super nice. As a leader it's been really rewarding to give back to the club since I joined as a freshman."
Any woman who is interested or even unsure about pursuing the STEM field should consider joining WISE. "It's basic stuff since we're working with kids usually. You don't need much experience," explains Gowri. 
Gowri adds that WISE is a "great opportunity to see if you like working with kids" and "give back to the community in general." Since many of their meetings count for volunteer hours, it's also a great place to go for community service.
WISE meets every Tuesday after school in Ms. Chaves' room (C210). To join or to contact with any further questions, reach out to either Ms. Chaves ([email protected]), the WISE advisor, or the WISE email ([email protected]).To stay updated with WISE, follow their Instagram (@whs_wise).