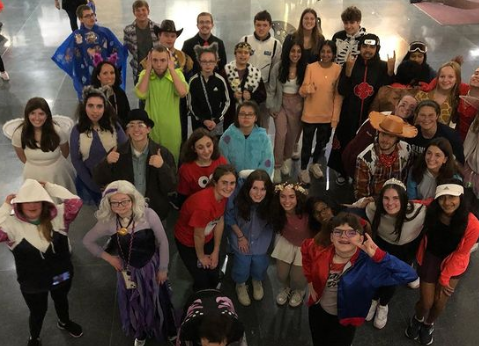 Every year the Best Buddies club puts on a spooky Halloween dance. This year the dance will be held on October 27th. Those attending are encouraged to wear a fun costume. The dance is a great way to celebrate Halloween with friends from school and support Best Buddies! 
The club officers and members are preparing for the dance by painting pumpkins on October 18th at their fall festivities event. The decorated pumpkins will be placed all around the dance floor and refreshments area. Food will also be provided at the dance: pizza, snacks, and candy! 
Presidents of Best Buddies, Talia Bedar and Julia Young, are both very excited about the dance as it is one of the biggest events for the club. They plan to invite surrounding towns and are excited to meet new people. 
"I'm eager to see other schools attend the dance and celebrate Halloween with us," Bedar explained. The club officers are getting ready and excited for the dance by "prepping decorations, music, and costumes," according to Bedar. 
Young mentioned that she is excited to see inclusion: "it's a great way for everyone to have a fun time in an inclusive environment." The dance is a great opportunity for WHS students to practice inclusion and have fun with their peers. 
The goal of the dance is to have fun, celebrate Halloween, and meet new people. Follow the Best Buddies' Instagram (@best.buddies.whs) for more information about the dance.