WHS Boys Track Makes WHS History as D3 State Champions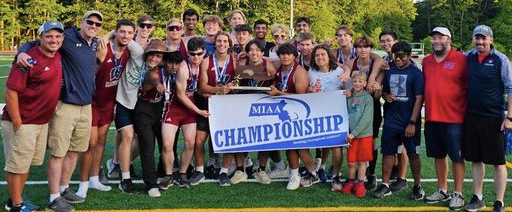 On Saturday, May 27,  the boys track team took first place for the first time in team history when they competed in the MIAA D3 State Championship Meet at Fitchburg State University.
With a record of 3-1, the team carried their success from the regular season into the postseason.
With an overwhelming number of individual successes amongst the team, the combined 83 points earned them the lead over Duxbury.
Some individuals who had notable performances include senior Alan Nguyen who placed 1st in pole vault, 4th in long jump, and 2nd in the 110m hurdles. Not to mention, sophomores Danny Valez and Reese Condon who took second and third in pole vault. With a clean sweep in pole vault, taking the top three places along with all the boys who competed placing in the top 20, the team scored a total of 31 points for the event.
Pole Vault Coach  Doug Lang shared,, "I was so happy to see the performances from the entire anti-gravity crew especially since they helped us to win our first ever team State Championship."
A notable player Lang cited was Valez.
"… he was injured for most of the season and had to watch most of the meets from the sideline, but was able to come back for this meet, tie his all-time personal best and contribute a HUGE amount of points to the team effort." 
Another crucial aspect of the team's win was the 4×800 team which included: seniors Brady Henderson and Michael Lelacheur, along with juniors David Hilfinger and Vamsi Ankalu. The team scored six points and placed third overall.
Not only was this a monumental moment for the boys, but also for  Coach Anderson as this is the second state title he and his teams have won this year.
Coach Anderson stated, "I am so proud to have had the opportunity to work with these two great groups of student athletes.  The state championships are the product of so many small and large efforts and sacrifices for each other…  Truly, I am honored to be a part of it."