Coffee & π = The Perfect Equation
Coffee & π, located in Westborough, MA, is a family owned business that offers a variety of coffee, pies, breakfast sandwiches, paninis, fresh salads, and more! They are known for their locally brewed coffee & Greek pies; their grand opening was on April 1. We visited the following day.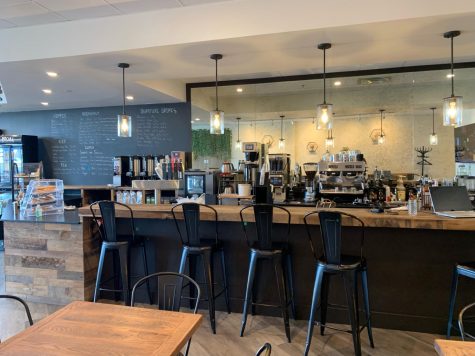 Coffee and π's environment is relaxful and welcoming with calming music playing on the TV. We were greeted right away by the welcoming staff and the large menu. We noticed the lively decor created a lively atmosphere. We had the option to sit down on the high chairs, couches, or regular tables. This is the perfect spot to go for breakfast or lunch and if you have any work to get done. They also offer free wifi which consists of the first few numbers of pi. If you have any dietary restrictions, they have a wide variety of foods and drinks that can be served gluten free and vegan.
"Our mission is to provide a variety of tastes and smells from local and international markets and display them in our cozy and welcoming location for everyone to try." Coffee & π website
I (Daphnne) had an Everything Avocado Toast that was priced at $8.99.  It contained whipped cream cheese, arugula, a balsamic drizzle, olive oil drizzle, lemon juice, sun dried tomatoes, and was very well seasoned. The avocado was fresh, the toast was warm, and it was overall flavorful and contained a beautiful presentation. I loved the mix of ingredients and I would definitely give this a 10 out of 10. I also ordered a Dragon Fruit Refresher which was priced at $4.25. The drink was a light peachy pink color, refreshing, and a perfect option if you're looking for a light cold drink.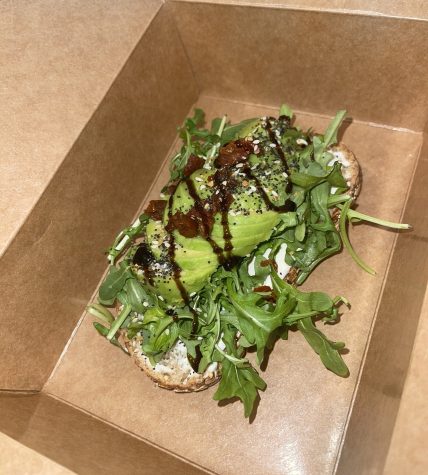 I (Alixe) ordered their Signature Caramel Latte that was priced at $4.49. I would definitely recommend this drink to anyone who loves coffee, but also has a sugar tooth. They added the perfect balance of milk, coffee, and caramel making so the drink was not too sugary and not too bitter. I also really loved the blend of coffee they use, it's not too bitter and you can taste the quality of the coffee beans. I also ordered the Pesto Caprese Bagel that was priced at $5.99. The breakfast bagel consists of cream cheese, pesto, tomatoes, and your choice bagel. I was pleasantly surprised, the cream cheese and the pesto fit perfectly together and the fresh tomatoes added the best balance. I was definitely left wanting more after it was finished.
We would definitely recommend stopping by this new location as it is the perfect stop for a quick served delicious breakfast or lunch. We both plan on returning and enjoying the atmosphere and the great quality food and drinks. 
Contact Info.
276 Turnpike Rd #8 in Westborough MA
Monday-Friday 7:00 am to 7:00 pm
Saturday-Sunday 7:00am to 6:00pm