Social Studies Hallway Mural Continues to Showcase History Images
You might have seen the mural in the history wing on the third floor.  It's a massive project that started in 2012. Eleven years later, it's still being worked on today. The mural chronicles American history from early colonial times through the 70s and will stretch to the present day when completed. The mural serves as both an art project and a teaching aid, illustrating history to the students in a way that makes it come alive. The mural project is supervised by social studies teacher Mr. O'Brien, and he has been supervising the project since its inception in 2012. 
When history is taught solely out of a textbook, it is sometimes hard to really grasp everything that can make the subject so great. The mural, however, gives an interesting visual representation to students. It encapsulates many things that went on throughout history. There are pictures of everything from WW2, Jackie Robinson, Jamestown, immigration, The Roaring 20s, and more. It's a wonderful tool to get people more engaged on the subject matter. 
Mr. O'Brien is currently trying to further expand the mural. Last year in AP U.S. History (APUSH), after the AP exam, students started creating a database for each image on the mural. So far every image is logged through Reconstruction. Eventually, there will be information about every single picture on the mural available. This is so exciting because students can see an image they find interesting and learn about it instantly.  Having this information so readily available makes learning more desirable for students. 
The mural also allows students to showcase their skills. There have been many talented artists to come out of WHS  who have gone on to study art in college or even make they're living off art. Unfortunately, the student body doesn't really know about all the talent in our school walls. The mural is a chance for everyone to see serious artistic talent. It also gives people that want to try painting a chance to do so while also providing them a balance in their schedule.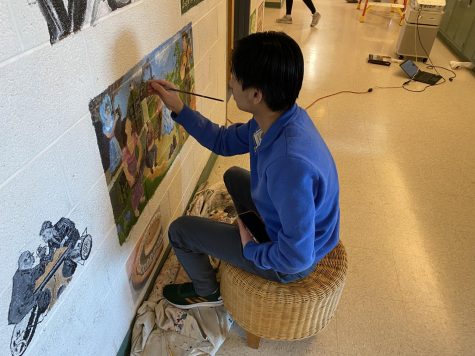 One of the students currently working on the mural is senior Owen Wu. He shares, "I was interested in painting the mural after looking at artwork in APUSH. Before I had never paid much attention to art, but Mr. O'Brien's saying 'the power is in the artist' inspired me. I wanted to bring history out of the textbooks and into something visual and representational. After all, history is the story of people, not facts listed on a sheet." 
It's no wonder that each year, more and more students are joining the project. Of all of the painters working right now, Mr. O'Brien wants everyone to also know about senior Jessica Gu. She is incredibly talented and is on track right now to have the most completed paintings on the mural in WHS history.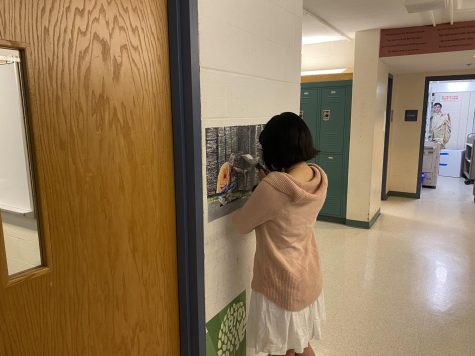 Gu says, "I took the internship because I wanted to balance out my schedule and I had fun working on it last year (at the end of APUSH). Also, to be perfectly candid, for bragging rights." 
Every student needs a break in their schedule, especially with student mental health declining over the years. Not only does the mural provide people with a much-needed break, but it also provides an opportunity for students to shine.  The Social Studies wing is in the A300s, so check out the mural.