How Westborough Has Supported The Homeless Community
The recent "A Night in the Cold" event raised $20,000 dollars for the Abby's House, in Worcester, this year. Westborough locals John Bogaert, Scott Henderson, Chris Sassetti and WHS students, seniors Brady Henderson and Gray Sassetti slept outside February 25.
Everyone participating surrounded a trash barrel fire in lawn chairs for the majority of the day. The rest of their night was spent in cardboard boxes covered by a tarp.It was definitely a night in the cold as the low of the day was 11 degrees. Additionally, there was consistent snowfall all day and night.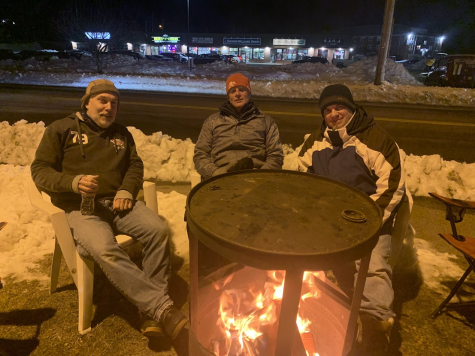 Brady Henderson states, "The sleep was pretty brutal relative to what I was expecting. The snow made the ground wet and cold, and the box echoed all sounds of the outside world making peace and quiet hard to come by. But we made it, and definitely are glad we did it."
Currently over 18,000 people experience homelessness in Massachusetts, in the U.S. over 5 million people are homeless according to the National Alliance to End Homelessness. This number has been on the rise since 1990. Organizations like Abby's House provide shelter, food and aid to those in need. Specifically Abby's House provides care for women and children. The non profit organization is supported by donations and a connecting thrift shop.
Henderson explains, "This was a great event to spread awareness about homelessness and bring a new perspective to the public eye."
After working with Abby's House Henderson says, "We learned a ton about the undiagnosed mental illnesses and unlucky circumstances that led to the situation that people experiencing homelessness find themselves in."
Though the Night in the Cold fundraiser has ended, Abby's House is always accepting donations. Visit their page to learn how you can help: https://abbyshouse.org/