Peer Mediation: "It's a confidential, safe place where you can talk.. we are here to help."
Since 2009, peer mediation has been offering WHS students an outlet to resolve their conflicts with the help of their peers. Through trained and certified mediators, students can meet face-to-face to come to an agreement instead of dealing with their problems through a screen. Peer mediation is an effective program that has been implemented in various high schools around the US.
The goal of peer mediation is to "Make people's lives just a little bit easier. People shouldn't have to walk around with the load and stress of a conflict or drama or some misunderstanding. High school is hard enough," WHS social studies teacher and peer mediation adviser Mrs. Papetti says.
The program was introduced to Mrs. Papetti, by former WHS principal, Mr. Smith, after seeing a similar program at Nashoba Regional High School. Mrs. Papetti was interested in the idea of helping students beyond the classroom and assisting them in communicating effectively in order to resolve their problems in a mature, healthy course of action. Rather than allowing harmful rumors to continue spreading throughout the school, peer mediation gives each student the chance to express their perspectives and put the drama behind them.
Peer mediator and senior Brooke Oberlee shares, "
"
We're trying to educate students on how to address conflict, how to express their emotions, and how to listen-to and have empathy for others.
— Brooke Oberlee '23
Currently, there are 10 mediators who have gone through special training and have taken an oath of confidentiality in relation to the different cases. Mediators approach these conflicts with the goal of understanding both sides. In order to do this, students are given a chance to take turns expressing their perspectives in a safe environment where they feel heard.
Mrs. Papetti shares, "When you don't have all of the peers and people who benefit from the drama continuing, when you don't have them in the room and it's only those two people, it's so different."
Almost always, a simple conversation helps to uncover misunderstandings and allows students to reach a middle ground. Students may not become friends after going through mediation; however, they no longer have to carry a weight from this conflict that may be negatively impacting their mental health or their relationship with others.
Oberlee adds, "Instead of having a face-to-face conversation, we talk over text or vent to other friends, and both of these coping mechanisms lead to miscommunication and further deterioration of the friendship… setting aside time to have a serious, productive conversation takes a lot of effort and vulnerability."
Through guidance, administration, teachers, and students, mediators can be made aware of existing problems. In a completely voluntary manner, students that are involved are then offered to have a conversation with the others in an attempt to reconcile the issue. It is up to the students to agree to mediation as it is not forced upon them. Mediation involves two mediators who ask questions to fully understand the conflict and then work towards creating a comfortable agreement between both parties.
Peer mediator and junior Sandhya Bala states, "We are not there to judge anyone or to figure out who is "wrong" or "right." Mediators want people to come to a resolution that feels comfortable to both of them."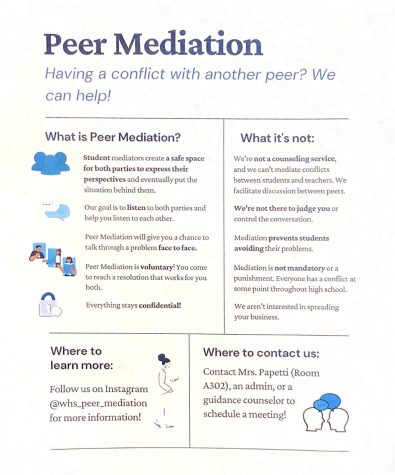 Due to the pandemic, in-person social interactions have rapidly declined among teenagers. In turn, students' ability to effectively talk about their problems face-to-face has also been neglected. After this period of isolation– which unfortunately took a toll on the mental and emotional health of many teens– it is of utmost importance for young adults to be having these difficult conversations, now more than ever.
"People lost the social skills of wanting to talk to people face-to-face… The whole thought of talking face to face to people is becoming overwhelmingly and concerningly scary," Mrs. Papetti comments.
Many people also have the misconception that peer mediation could result in more problems and getting into trouble. This is not true as peer mediation is here to help resolve problems, not to complicate situations for students. All information in the mediation remains completely confidential unless there is a threat or concern that someone could get hurt.
Students are welcome to set up a peer mediation by talking to any of the mediators whose names can be found on the board outside of the library. They can also reach out to Mrs. Papetti (A302) or any trusted adult in the building. If you are interested in becoming a mediator, applications open in the spring.
Mrs. Papetti wants students to understand that peer mediation is "…a confidential, safe place where you can talk… we are here to help."
Follow the peer mediation instagram @whs_peer_mediation.