WHS Athletes Headed to New Balance Indoor Track Nationals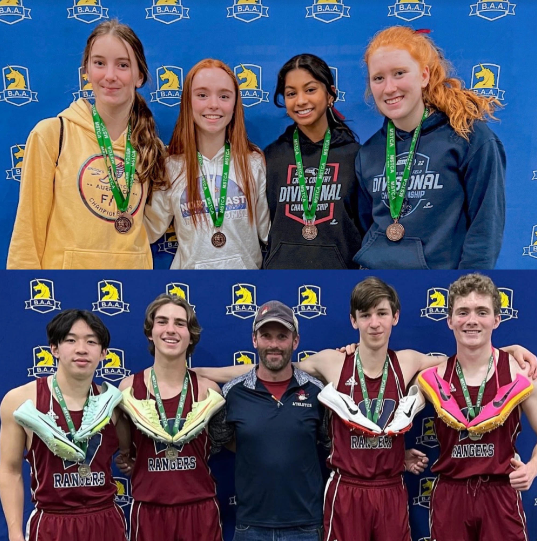 The boys' and girls' indoor track teams at WHS have had very successful seasons thus far. As they head into the postseason, there are many exciting things to look forward to, including those competing at New Balance Nationals. The events take place on March 10-13 at the New Balance Track, a new facility in Boston. This year, the most students from WHS made it to nationals than any other year, and the team couldn't be more excited.
The boy's head coach, Jeremey Nute shares, "I am thrilled to attend nationals this year. It's great that the meet is now local, at the New Balance track in Boston, allowing for more spectators."
This past January, at the Division 3 Relay Meet, both the boys' and girls' shuttle hurdle relay teams were qualified to compete in the biggest meet at the end of the season, against the best runners from around the country. 
In order of the legs of the relay team, the girls' shuttle hurdle team consisted of seniors Melinda Haagensen and Trisha Rajasekar, junior Katelyn Winchester, and sophomore Regen Sullivan. The girls ran a time of 32.47 seconds, qualifying them for the national meet by just half of a second. This is their second year in a row qualifying for nationals.
"Last year, we qualified for nationals too, but we didn't end up competing. I am happy to have the opportunity again this year and actually compete," senior-captain Melinda Haagensen shares. 
Haagensen is a well-known track and field runner who is comfortable competing with others at the national level. In addition to being the anchor of the shuttle hurdle relay, she is also pole vaulting at nationals. She cleared the qualifying standard by 10 inches, with a vault of 11 feet, 10 inches. 
"I'm very excited to compete at nationals with the team. I went last year by myself, and it was a great experience, so I think it's going to be really fun to be able to share that with some girls on the team," Haagensen exclaims. 
The boys' shot put relay team placed second in the Division 3 Relay meet and set a school record of 122 feet and 7.5 inches. The team consists of Abe Baublis, Sebas Grillo, and Taylor Quigley. 
The boys' shuttle hurdle team, which consists of Alan Nyguen, Ben Verheijen, Timofey Tylik, and Brendan Martin, set a record time of 25.96 seconds at the Divison 3 Relay meet, qualifying them to run at nationals as well. This will be their second year in a row attending, as they placed 6th last year and were named All-Americans.
"I am really grateful to be able to go back to nationals and go against the best of the best," captain Alan Nguyen shares.
On top of being the anchor leg on the shuttle hurdle relay team, Nguyen is also individually competing in the 60 meter hurdles and long jump. As one of the state's top track athletes, Nguyen runs 7.73 seconds in the hurdles and jumps 21'7.5 feet. He qualified for both at the MSTCA Speed Classic meet back in December.  
Girls' track coach Steve Masciarelli shares, "After an incredibly successful indoor track season, it is really exciting to see the shuttle hurdle relay teams compete at this level. Those athletes all are great examples of what WHS athletics are about.