WHS Needs Water Bottle Filling Stations on the 2nd and 3rd Floors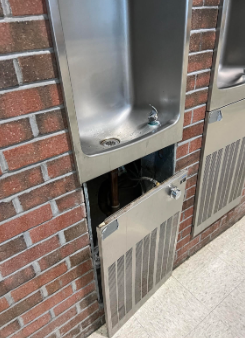 In order to improve the well being of our school community, it is essential that students and faculty have the ability to access filtered water throughout WHS, so they are able stay hydrated throughout the long school day. 
There are curerently three water stations at WHS; however, two are located on the first floor and the other one is outside the lockerrooms. This is very inconvenient for many students and faculty who don't usually even have classes on the first floor. So in turn, they have to walk numerous flights of stairs to fill their water bottles and therefore miss critical class time.
 Although there are traditional water bubblers available throughout the different floors, they are unsanitary and most of the time out of order. Additionally, the use of water bubblers has been decreasing since reutrning from Covid; due to their uncleanleness.  Many students opt not to use them. 
After conducting a small survey, it is shown that the average student leaves class to fill their water about 2-4 times daily. This allots for large amounts of missed class time and numerous students roaming the halls. With administration trying to cut back on the number of students in the halls during class, an additional water filler on the second and/or third floor would be a possible solution.
Furthermore, students have expressed that they choose not to fill up their water bottles because its a "hastle to miss so much class time." Students should be able to fill up their water bottles throughout the day without having to worry about missing what's going on in class. 
While students can fill up their water bottles at lunch or during break, there is always a line since these are some of the only times that students are on the first floor during the day. 
Additionally, it can be argued that the water filling stations are not cheap, but we believe that they are worth the investment. According to several different companies, the water filler stations cost range from $1300-$2000. (Not including additional costs for installation/water pipes, labor, etc.)
If our school and district budgets won't allow for the installation, a possible option worth discussion is holding a fundraiser or asking the community for donations.
In order to minimize the class time that students are missing by wandering the halls to fill up their water bottles in downstairs lobby, we need to install water bottle filling stations on the second and third floors.