Book Review: It Starts with Us a suspenseful Colleen Hoover sequel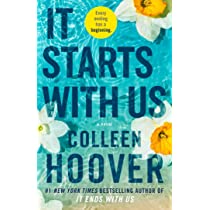 Yael Bugaev , Arts and Entertainment editor
November 17, 2022
It Starts With Us by trending romance author Colleen Hoover was released this past month. The novel is the sequel to It Ends With Us. Lily, the main character in the novel, is starting her new life with her first love Atlas, after she has just divorced her husband, Ryle. She has just had her child Emerson with her ex husband. The novel focuses on the new relationship between Atlas and Lily after they haven't seen each other for almost two years. However, their relationship isn't so perfect after all. Ryle is still a part of Lily's and Emerson's life. In the novel, Ryle finds out Lily is seeing Atlas again and Ryle has made it clear that he doesn't want Atlas in Emerson's life.
This sequel was suspenseful with lots of plot twists and surprises. You see a lot of Atlas's perspective on the relationship between Lily and Ryle and how Lily deals with Ryle and the divorce. There's a lot of back and forth between Atlas's personal life where he finds out more about his family and Lily's life. After reading the first novel, it's good to see that Lily and Atlas have rekindled their relationship.
I would recommend this book to any other Hoover readers and any readers who enjoy romance novels. Make sure to read the first novel to make sure you are caught up with Lily's life. I would give the novel a 10/10.