Starbucks' Holiday Drinks Must Have
The holiday season comes with a lot of great things, one being Starbucks' annual new signature holiday drinks. This year, Peppermint Mocha, Toasted White Chocolate Mocha, Caramel Brulee Latte and a Sugar Cookie Almond Milk Latte are a part of the 2022 menu.
We personally love to be able to try their new flavors and see what they come up with each year. We took a close sip of the Sugar Cookie Latte. The name sounded intriguing to us and after looking at the ingredients, we knew we had to try it.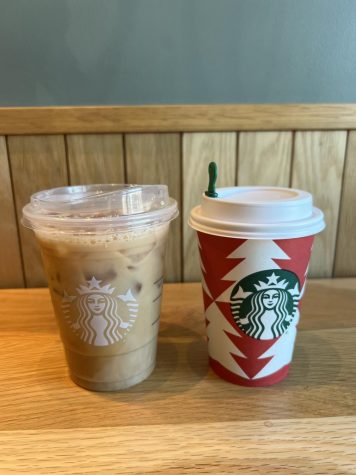 After taking our first sip, we found it to be the perfect amount of sweetness and the flavor actually tasted like sugar cookies. For this drink you are able to choose iced or hot and whatever milk (if any) you want. We ordered the drink with almond milk. We tried the iced version of the drink, but we think that we would rather it served hot. We would definitely say that the Sugar Cookie Latte is definitely one of our favorites so far.
The second drink we tried was the Caramel Brulee Latte. We got ours hot and with almond milk again. When trying the drink our initial thoughts were it was very sweet, but we did like it. We wouldn't recommend this drink to anyone who likes their coffee bitter, because this latte was one of the sweetest drinks we've had. Our choice of almond milk may have made the drink sweeter than usual so it may vary on how you order it.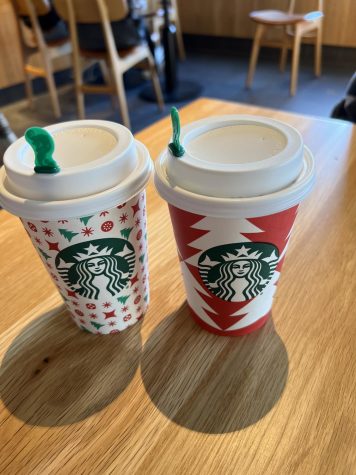 If you are someone who doesn't like coffee, Starbucks still has holiday drinks for you. We tried the peppermint white hot chocolate and the peppermint hot chocolate. After trying the peppermint white hot chocolate, we could definitely taste the peppermint. We really enjoyed this drink especially for a cold day!
Now for the peppermint hot chocolate: immediately after taking our first sips we knew we were not a fan. The chocolate taste was very strong and it tasted a lot like dark chocolate rather than milk chocolate. The peppermint taste was not really there at all, because the chocolate taste was to overpowering. If you are someone who likes dark chocolate, this might be the drink for you.
These holiday drinks will be offered most likely through the second week of January 2023.