WHS Senior Small Business Owner: Furwa Haider

Senior Furwa Haider has always been crafty, but it wasn't until 2019 when the pandemic hit that she found her passion for crochet. She learned how to crochet from Youtube videos during quarantine.
"I was really bored and needed something to do… I wanted to make use of all of the free time I had," Haider states. 
Her inspiration to begin crocheting was personal.
Haider shares, "I needed something to drown my feelings out. When I started crocheting I'd feel better because I was putting my time and energy into something that actually mattered. It's something that makes me happy and has many positive outcomes."
Her mom also had an influence on Haider's beginning of her crochet journey.
"My mom is someone who loves crafts like that and she's always buying them so I figured that other people also appreciated things like she did," Haider says.
At the time Furwa was 15 years old and didn't have a job, so this was a good way for her to earn an income while doing something that she enjoyed.
She started her own small business on Etsy, called "CrochetByFurwa." (https://www.etsy.com/shop/CrochetByFurwa ) All made by hand, her items range from animals like snowmen, worms, and octopi, to items like coasters, or pumpkins. Her store has holiday-themed items.  For instance, she sells "Halloween Character Sets", and "Easter Peeps." 
Haider's favorite thing to crochet would have to be an octopus (2 inches tall, and 2 inches wide).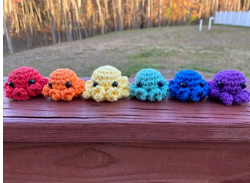 "I like to make it because it takes me only 15 minutes to make and it's super easy," Haider comments. 
The best seller on her shop is a worm, and she has sold over 200 of them.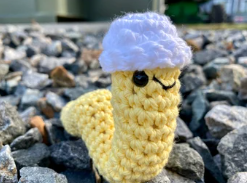 The price of her products ranges anywhere from $4 (mini octopus) to $25 (worm on a string).
Each product takes her a different amount of time and effort to crochet, depending on its size and complexity of it. The amount of time a product takes for her to make ranges anywhere from 15 minutes to 6 hours. 
The main materials that Haider uses for her crochet projects include her crochet hook, yarn, and thread, which she can normally picks up at Joann Fabric store or on Amazon. She also uses stuffing that she gets a big bag from at Walmart. The crochet hook she uses, she has been using for almost two years, and the big bag of stuffing she has lasts her for about a year. 
"The total cost for my materials would be around $25 including tax," Haider shares. 
Haider's shop seems to receive the most orders around the holidays. For example, on Thanksgiving, she gets around 3-4 orders per week, while during the middle to end of December she has received upwards of 10-15 orders per week. 
"It can get a little hectic around the holidays, however, it's such a rush and very rewarding knowing that people are choosing to get their gifts from me… and so much money," Haider comments. 
Haider has made over $2,500 in profit and has had over 250 sales from her shop on Etsy, including international orders from Germany, Canada, the UK, Turkey, and France.
If you are looking for a little desk pet,or a small gift for a friend this holiday season, consider supporting a fellow classmate's small business and purchase from CrochetByFurwa!