WHS Cheer Kicks Off With New Head Coach Emma Furmanick
WHS's varsity cheerleading team has kicked off the 2022 season with a new head coach Emma Furmanick. Furmanick has an extensive background in dance which will greatly contribute to the team's success. Furmanick accepted the position as head coach after being an assistant coach with the team last season. She explains that she loved seeing the growth of the team and plans to continue to expand the program. 
"We are all so thankful to have a coach that treats us like family instead of just players on a sports team. Furmanick is an approachable coach, whether you're talking to her about cheer or something personal," Co-captain and senior Nina Ribbe says.
Alongside Coach Furmanick are returning captains and seniors Daphnne Cabrera, Ribbe, and Ella Sung. The three captains have been members of the team since their freshman year and have also pushed for the growth and development of the program. They have altered the previous approach to strengthen the team, which has had successful results.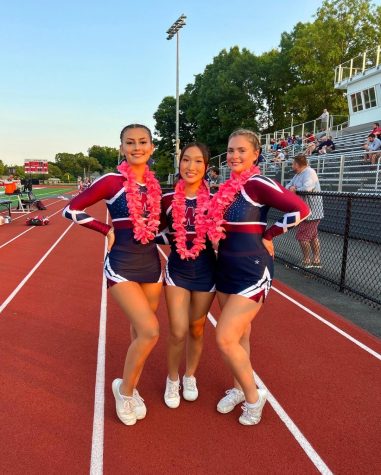 So what leads a team to be successful? Well, a hardworking and approachable coach.
 "I want the girls to feel like they can come to me about anything and then it is my job to make sure a request happens if possible, advocate for the program or solve a problem if one arises", Furmanick explains. She is dedicated to making the team the best it can be and believes that the team's current dynamic is already really strong. With that, she plans to make sure the team excels. 
For instance, the first set of try-outs for this season were held back in June instead of at the end of August. This allowed for captains to organize summer practices and team bonding events, which has given the team a head start. The captains explain that cheerleading is a sport where one has to have a lot of trust in their teammates. Therefore, team bonding over the summer was essential and ensured that the girls began to feel comfortable with one another.
"I am beyond thankful for the coach's dedication to improve our team. This year genuinely feels like a fresh start. Our team has new uniforms, new bows, new jackets, and the majority of our team has cheer experience. All the girls and coach have created a healthy environment, where everyone is there for each other and pushing each other to accomplish more," Cabrera comments.
Cabrera, Ribbe, and Sung have also focused on the team's fundraising efforts, partnering with The Central House Tavern for Taco Tuesday and an upcoming trivia night at The Red Heat Tavern on September 27. 
The three captains aspire to grow the program this year, as the team has struggled to do so previously due to Covid. During their sophomore year, the team was significantly impacted by the coronavirus as the few players who did join were unable to even create a routine as there was no school pep rally or halftime show at which to perform. Competition was also not in the picture and stunting was not allowed. The girls pushed through the difficult year and helped lead an amazing season their junior year. 
Now during their senior year, the team consists of a group of 14 girls and a team manager.  The three captains state that the team is pushing themselves to do more difficult stunts in order to have a more complex routine and variety in their skill sets. They wish that these new obtained skills will get passed down to years to come. 
Sung also shares, "We are all so thankful for our coach for stepping up and believing in us. She continues to motivate our team players and we are very excited to see what she does for our team and to expand the program." 
According to Coach Furmanick, her favorite part about cheer is "The teamwork that it takes to get the job done whether it be doing cheers on the sidelines and making sure that everyone looks together, or working together on stunting". She explains that she is incredibly excited for the upcoming season and that she is proud of all the work the girls did over the summer, which has allowed the team to move onto a routine and stunting earlier in the season.
 "The energy on the team is always positive and the girls are always encouraging and lifting each other up," Furmanick comments. 
When asked about competition, Furmanick explains, "If the team competes this year it will be in the Game Day division. This is still a work in progress because I want what's best for the team and we need to see if that is something that can be achieved this year." 
Competing entails a routine with music that includes jumps, stunts, cheers, dances, and tumbling. A panel of cheerleading professionals evaluate each team based on difficulty and performance. Preparing an exceptional routine takes a lot of effort, time, skill, and practice. Therefore, Coach Furmanick has to ensure that the girls are competition ready. 
"Make sure to be on the lookout for the team at all football games this season and at the pep rally!" Furmanick states. 
The next game is home on Friday, September 16 at 6:30 p.m. against Sharon High School. 
Make sure to check out the team's Instagram and Facebook page for updates!
Instagram: @westborohighcheer
Facebook: @ Whs Cheer