Veg Out Nourse Farm Food Truck: A Must Try
Veg Out is a local food truck situated on Nourse Farm in Westborough, it first opened on June 10, 2019. Catherine Nourse is the founder and also the master behind all the recipes. The food is either vegetarian or vegan with numerous options for anyone who has food preferences or food allergies.
Nourse has a degree in nutrition and has created all the recipes to be made with the farm picked vegetables. With every season there are new recipes to go with what the farm has freshly picked. Nourse's mission is for people to start eating local and having a plant-forward menu that helps attain a person's planet health.
The menu consists of three different types of sandwiches, two types of smoothies, two different types of soup, and five different types of sides. They also have an online menu that is convenient if you are on the go. If you have more time and would like to go with your family and friends there are picnic tables that are underneath a tent. While you wait for your food, you can walk around the farm to see the baby goats. You can also see the fields from which your food is grown.
At Veg Out, I have tried the How Ya'Bean Burger, the Soup-herb Gazpacho, and the Nourse Farm salad. The bean burger consists of black bean, sweet potato, corn, bell pepper, chipotle finish, cilantro lime aioli, lettuce, tomato, onion, and pickle with also a side of slaw which is vegan. As a vegetarian, I have found that most places do not put as much thought on their vegetarian menu. But with Veg Out, you can taste the carefully thought-out ingredients that are put in to make the best veggie burger that is very filling and also healthy.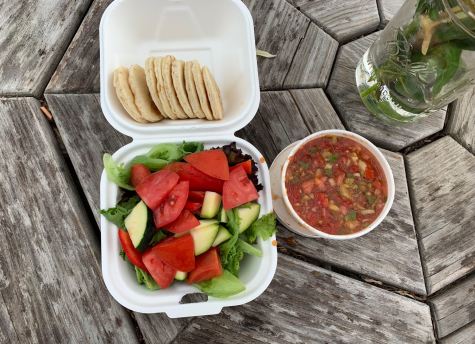 "

I also tried the Soup-herb Gazpacho. This cold soup includes tomato, celery, cucumber, onion, bell pepper, parsley, chives, garlic, and vinegar. I had never tried Gazpacho before, but this has easily become one of my favorite staple cold soups for summer. "

— Alixe Cecchini '23

You can taste the farm fresh heirloom tomatoes that Nourse uses in her menu; they blend flawlessly with the other vegetables. None of the ingredients are too overpowering making an amazing cup of cold soup.

Whether you are on the go or out with family, definitely stop by Veg Out for the great hospitality and most importantly the tasty menu.

80 Jasper St, Westborough MA
Open Saturday-Sunday 11am-4pm
https://www.noursefarm.com/vegout