All Eyes on the Goalie: Sophomore Yael Bugaev
Yael Bugaev, a Westborough high school sophomore, is working towards her dreams of becoming a Division I athlete. Bugaev has been the starting goalie on varsity for two years now. After this season, her most successful as a WHS goalie, she is looking forward to what the future holds. She helped Westborough make the state semi-finals, only allowing four goals in the regular season and six overall. Outside of school, Bugaev plays for NEFC's 2006 DPL team; however, she is trying to get on the top team there, the 2006 Girls Academy team. 
Soccer has always been in Bugaev's life. Bugaev grew up at the fields watching her two siblings play soccer so she followed in their footsteps. She started at the young age of seven years old and was attracted to goalie immediately. As her high school years crept up, her upperclassmen friends pushed her to be the best she could so she could hopefully make varsity. 
Bugaev said, "It was still stressful having to live up to the standards of the former senior goalie, Carolyn Kelley just as a freshman. This year is an even better player and knowing the stress and standards of all the other teams I think I did even better than my freshman year. Not many get to start their freshman year and sophomore year on varsity."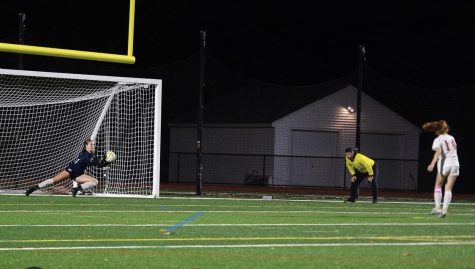 After high school, Bugaev is hoping to go to division one in college for soccer. 
"I want to play division one because it's always been a dream of mine ever since I started playing soccer and as I get older I want that dream to happen more. Division one seems like it is a good fit for me. I want to have that group of girls that are like sisters to me. I love playing this sport and I love being busy with it all the time. Whether it's lifting, practice, or working on highlights. I love the intensity D1 soccer has," Bugaev shared.
Bugaev spends over eight hours a week practicing and lifting for soccer. Soccer consumes her life, but she loves it and all that comes with it. 
She said, "My club coach knows I want to play D1 so he helps me with my highlights and writing coaches emails. When there is a tournament or showcase I email coaches my information and my interest in that school. Later on, I follow up with them. June 20th is the official date D1 coaches can reach out legally so I am excited for that." 
Division I is her top priority, but she is also looking into some Division II schools to keep her options open. Bugaev's top school is University of Connecticut. She attended a camp there recently which helped her solidify her love for the school, campus, and environment. 
Bugaev commented, "I got to talk to the team and goalkeepers and loved it. I want to stay in New England to have the chance of being able to go home or having my parents come to my games. Some other schools I am interested in looking at are UNH, Sacred Heart, Fairfield, Conn College, Merrimack, Umass Amherst, UVM, Endicott, BC, BU, U Tampa, and Florida Southern (even though this is not close to home). Of course, I am still looking for other schools." 
Bugaev will continue to strive for her goal and is hoping to commit to a college in the next year. WHS is excited to see where Bugaev goes and how she will use her talent to help her team next season as well.