Satisfy Your Sweet Cravings At Muffin House
Muffin House, located in Hopkinton, Natick, Mendon, and Medway, offers a variety of muffins, coffees, and other bakery items. We decided to visit their Hopkinton location where we dined outside as the small indoor space felt a bit too crowded to relax.
I (Daphnne) had a small strawberry and banana smoothie priced at $4.45. This beverage had a thick consistency, with the banana having a more prominent taste than the strawberry. I also ordered the California Avocado Toast, which came with two slices of toast with avocado, feta cheese, and drizzled with hot sauce, which was priced at $6.29. The avocado was fresh, however, the combination with hot sauce was a bit unusual tasting. Alixe and I had also ordered a chocolate chip muffin, priced at $3.89, which had a light and fluffy consistency. The muffin itself was honestly a great size and quality for its price.
I (Alixe) bought a Vanilla Ice Chai Tea Latte, which costs $6.09 for the large. This chai tea was a perfect blend of vanilla and spice as the spices were not overpowering. They had two flavors, you could either choose a vanilla iced chai tea latte or a spiced Iced Chai Tea Latte, with the option of also choosing which type of milk they had from a selection of six different types.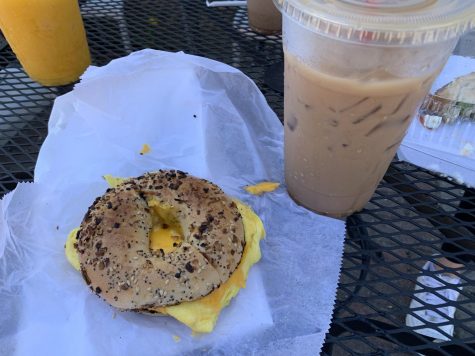 I also grabbed an egg and cheese sandwich which cost $5.29. You can choose from ten different bagel types or seven different breads including croissant, English muffin, and a panini bread. You can also choose American cheese, Swiss cheese, or cheddar cheese to go in your sandwich. The bread was toasted making the perfect crunch with a scrambled egg and a gooey layer of cheese. Making this breakfast sandwich the perfect choice to give you energy for the start of any day!
Muffin House's location in Hopkinton was a calm and welcoming place, but due to their limited indoor space, we recommend ordering to go. Although their prices are slightly high, we recommend stopping by to grab a treat. We also suggest trying their bakery items, drinks, and sandwiches. This is a good place to grab a quick snack while on the go.
Contact Info.
43 Main St. Hopkinton, MA 01748
508-625-8100
Monday-Sunday 5am-3pm
https://www.muffinhousecafe.com/hopkinton