Senior Captain Parsons Reflects on Lacrosse Career
Kylie Parsons, a WHS senior varsity captain lacrosse player, reminisces on her past experiences in a sport she's always known,  "I started playing lacrosse in third grade because my older sister, Amanda, played. I was at the age where I wanted to do everything she did, so when she picked up a lacrosse stick, so did I." 
She fell in love with the sport and continued playing recreational lacrosse from third grade through eighth as well as securing a spot on several club lacrosse teams throughout. 
Coming into high school she had high hopes for herself in the sport,  "When I tried out for the high school team, I was nervous, but knew most of the girls because I had grown up with the program. I would come to watch the games when I was younger, and I always aspired to be on the field."
Once teams were picked, Parsons heard she was the only freshman chosen for the 2019 varsity team. 
She shared, "When my name was called for the varsity roster I was in complete shock. It was something I had always dreamed of, but never thought would actually happen." 
Parsons was thrilled about the next four years with the team.
The 2019 team had three captains:  Amanda Parsons, Casey McNamara, and Chloe Goebel. Parsons credits Goebel and McNamara for helping her a lot on midfield/attack because they played the same position as her. 
She said, "I looked up to Chloe and Casey a lot because of how talented they were. I remember watching them from the sidelines and trying to mimic what they did when I played. 
Parsons also expressed how much she continued to look up to her sister: "I've always looked up to Amanda. She's the reason I'm as competitive and gritty as I am. She helped integrate me into the high school team and showed me true leadership. If one day I can be even half the person she is, I'll be more than satisfied with myself."
The 2020 season was canceled because of Covid-19, so when the 2021 season rolled around the team only had two returning varsity players, Julia French and Parsons. Parsons admits having a difficult season her junior year after coming back having not played a competitive lacrosse game in almost two years. Throughout the 2021 season, the team spent a lot of time rebuilding its foundation. 
"Last year was like starting from scratch. We had to rebuild the foundation for our team which was difficult because we also had a tough schedule," Parsons commented.
Parsons credits her two coaches, Colleen Debish and Sean Chenevert, for remaining dedicated to the team, and helping lift the girls up through a hard season.
 "Coach Debs and Coach Sean believed in us and that was all we needed. They were dedicated throughout the entire season and never gave up on us. That made us as players want to give it our all on the field for them," Parsons stated.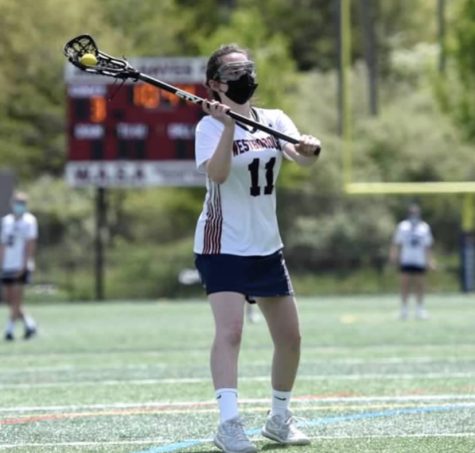 Parsons's biggest motto is to play with emotion and maximum effort every time you step on the field. "I always tell the girls to play with heart because that's when you play your best. When you find someone or something to play for, no one can stop you." 
When asked about who Parsons is
playing for this season, she quickly replied, "This year I play for my teammates, coaches, and family. I want this season to outperform my freshman and junior years. I want to wrap up my nine years with this sport in the best way possible, and prove to everyone the player I'm capable of being."
The WHS girls lacrosse home opener is Thursday, April 7 against Bromfield.