Starbucks Releases Two Spring Drinks
On March 1, Starbucks came out with their spring collection of drinks, including their new Iced Toasted Vanilla Shaken Espresso and Dragon Drink. 
The Dragon Drink consists of fruit juice with mango and dragon fruit flavors, shaken with coconut milk and ice, a scoop of dragon fruit, and contains caffeine and coconut. Starbucks has announced that this refreshing fuchsia colored Dragon Drink will be a permanent addition to their menu. This drink contains no artificial flavors; as the magenta color is naturally occurring with the dragon fruit. The drink tastes creamier than the similar pink drink, while also tasting sweet without being too overpowering. People are raving about this drink online and observing that it's already sold out in a lot of locations! I (Daphnne) would definitely recommend trying this drink, as it is not only delicious, but has an aesthetically pleasing appearance.
The Iced Toasted Vanilla Shaken Espresso is made with blond espresso shots with hints of vanilla, shaken together with ice and topped with Oat Milk. When drinking this, I (Alixe) would recommend shaking it up a bit more before drinking because the espresso tends to land in the bottom of the cup and if you don't, you might end up only drinking the oat milk.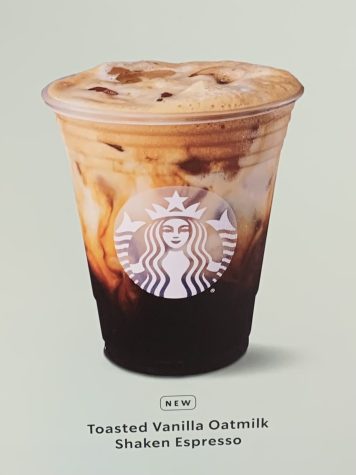 Starbucks has also made this a permanent addition in the U.S. Starbucks store. The drink is grouped with Shaken espresso drinks, which consist of the Iced Brown Sugar Oatmilk Shaken Espresso, and the Iced Chocolate Almondmilk Shaken Espresso. This is also a very popular drink because this becomes another dairy free option with oat milk instead of dairy milk. If you are a fan of the Iced Brown Sugar Oatmilk Shaken Espresso or the Iced Chocolate Almond milk Shaken Espresso, the new addition Iced Toasted Vanilla Shaken Espresso is a perfect spring drink that's packed with caffeine for the final months of school. 
Along with the Iced Toasted Vanilla Shaken Espresso and Dragon Drink brought this spring, Starbucks is also offering the Starbucks BAYA Energy drinks in flavors Mango Guava and Raspberry Lime, which will be available at select Starbucks stores. This is Starbucks' first energy drink; containing 90 calories, caffeine, and vitamin C. Starbucks has also introduced spring-inspired coffee blends such as the Honey & Madagascar Vanilla Flavored Coffee, featuring sweet honey and rich vanilla, and the Spring Day Blend containing dusted cocoa and dried fruit. Both blends are available for purchase for a limited amount of time.