Stanford University Star Soccer Player: Death of Suicide Confirmed
Last Tuesday on March 1, the soccer community lost a valuable person in this world. Katie Meyer, 22, was a fifth-year senior and captain of the women's soccer team at Stanford University. She was an International Relations major at Stanford. On Friday, March 4, her parents confirmed on NBC News that she had died by suicide. 
Meyer was a remarkable goalkeeper and had a huge role on the Stanford Women's soccer team as a leader, sister, and teammate, not to mention as someone who many looked up to.
Meyer was found dead in her campus residence. Her parents say that the cause of the suicide might be connected to Meyer defending her teammate due to an incident. Meyer received letters and emails from Stanford about the incident and perhaps received a final letter that was the last she could handle. 
"Katie, being Katie, was defending a teammate on campus over an incident and the repercussions of her defending that teammate (were possibly resulting in disciplinary action)," Steven Meyer said on the TODAY show.
Her parents Steve and Gina Meyer said that Katie was a happy person but had a lot on her plate. Meyer's mom said, "She was in great spirits."
As someone who attended a competitive school, was a Division I athlete, and a social media influencer, Meyer's life was stressful. Meyer's parents are still trying to figure out the reasoning behind her suicide, but they know that the final letter she received from the university was the trigger.
Stanford and countless other college soccer programs and club soccer programs have been sending out their condolences and posting on social media for Meyer. The U.S women's youth national team is wearing bracelets around their wrist with KM for Meyer because Meyer had KM written on her gloves. Stanford sports have also been writing KM on their shoes and hair ties for Meyer.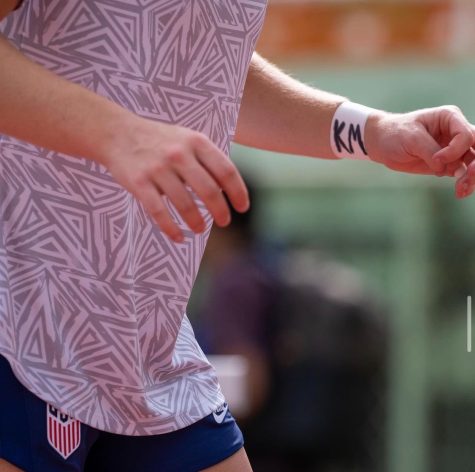 As someone who is a goalkeeper looking to play Division I soccer in the future, this news hit me hard. I would constantly watch the inspiring goalkeeper's games and highlights, and it is so tragic to hear that someone who I look up to is gone. 
A Memorial Fund on Go Fund Me has been made for Meyer's Memorial, if you are interested in sharing or donating here is the link: https://gofund.me/70413e2d 
If you or anyone you know is having any thoughts of ending their life please call the U.S. National Suicide Prevention Lifeline at 800-273-8255, text HOME to 741741 or go to SpeakingOfSuicide.com/resources for additional resources.
Sources Used:
https://www.today.com/news/sports/katie-meyer-death-parents-interview-rcna18694 
https://www.cnn.com/2022/03/03/sport/stanford-soccer-player-katie-meyer-found-dead/index.html