WHS DECA Students Head to Boston for States
On January 26, WHS students competed in the DECA (Distributive Education Clubs of America) district competitions where they participated in academic conferences within their specific business area.
DECA is a competitive events program that allows students to put their experience, skills and knowledge to the test while representing their college, university or high school. DECA allows students to discover what they're interested in with topics such as marketing, business management and administration, hospitality and tourism, finance, buying and merchandising, etc. DECA further teaches students the biggest skills they will need for their careers and the rest of their lives, including leadership, communication, problem solving, and teamwork skills.
The following Westborough students placed in the district competition:
Abby Mahr – Principles of Marketing 1st Place
Deeksha Kapoor & Devasri Damodaran – Marketing Management 3rd Place
Henry Pittorino – Retail Merchandise 4th Place
Jack Armitage – Business Services Marketing 4th Place
Morgan Barber & Daphnne Cabrera – Buying & Merchandising 5th Place
Liam Johnson & Aaron Schwartz – Sports & Entertainment 6th Place
Others Qualifying for States:
Katie Richards
Sam Manuelian
Nathan Hlawek
Kyle Skinner
Autumn Hurtado
Julia Demian
These students will be competing at State level on March 10-12 in Boston.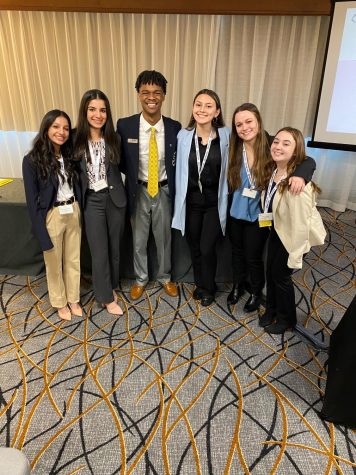 WHS DECA adviser Mr. Pottorff shared:  "Our DECA team did exceptionally well! Going into it, I knew we were going to do well; I thought that all of students had a chance to qualify for States. . . but we blew away all expectations! At times, it was literally show stopping – especially given it was our first time competing. Our team received many compliments from rival teachers and students. I was extremely proud, but also unsurprised given the time and effort everyone put in to make sure they were prepared and understood multiple facets of business. Not only did they succeed, but I also heard about how much fun everyone had there. It was great to see an environment with everyone laughing and enjoying themselves, while also showcasing their knowledge. This team has built a great foundation for DECA at Westborough and I know we could end up qualifying twice as many for States next year!"