Netflix Love Hard: Predictable, Cheesy, and a Bit Funny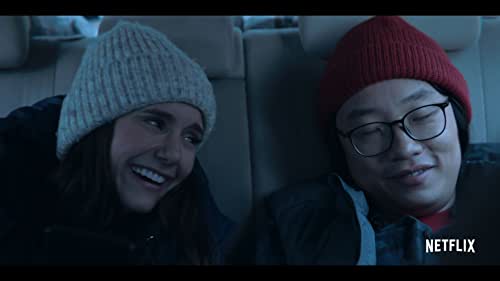 Love Hard produced by McG and Mary Viola is the new Christmas movie out on Netflix. It is rated TV-MA and came out November 5, 2021. It is a romantic comedy movie with 54% rotten tomatoes. We feel that this movie is worth watching for a good Christmas laugh.
The show is based on a journalist Natalie Bauer who wants to find love, but everytime she meets someone new it doesn't work out for her. She has tried numerous dating sites and can't seem to find the one. She matches with this man Tag, or who she thinks is Tag. Natalie decides to go visit him in Lake Placid to surprise him for Christmas, and this is where everything goes downhill.
Yael Bugaev thoughts: Overall, I think that Love Hard was a movie that was very predictable. The beginning of the movie was very good and I wanted to continue watching it, but towards the middle and end I didn't enjoy it very much. This is because I could guess what was going to happen in the next scene and that's why I didn't find this movie to be my favorite.
Throughout the movie I caught myself getting bored and losing focus, and yet, I also enjoyed the movie at times. The concept of the movie was silly and dumb. Although some of my favorite parts of the movie were in the final scene, I would still give Love Hard a 6/10. I think if you want to watch a classic romance Christmas movie that's very predictable, then watch Love Hard.
Carolyn Gencarelli thoughts: When I started this movie, I had low expectations from hearing what others thought of it. This is what intrigued me to watch, although as I continued to watch I found lots of parts very funny and it kept me interested. Some scenes were very predictable and I found myself guessing the ending which turned out to be true.
The movie as a whole keeps moving and there are new topics in almost every scene which kept me watching. Overall I thought it was a humorous, uplifting movie, I would give it a 6.5/10. I think if you are looking for a cheesy Christmas movie, this is the go to.