Winter Sports Pre-View
Last year due to Covid-19 restrictions, the WHS winter sports season was the most impacted, as many sports were moved to Fall 2. This year as we head into the winter season, the excitement for a regular winter season grows.
Here's a look into winter sports previews at WHS:
Boys Basketball
When asked what their biggest challenge will be this season, leading scorer, captain, and senior, Tabish Hussain shares, "I think our biggest challenge this season is going to be building the team chemistry to where it needs to be. Also, having all of the guys understand their individual roles and how they'll be able to help the team win games."
Hoping to lead the team by example on the court, Hassin added "[seniors] Aidan Larkin, Nick Boyd and Taylor Fredman are going to definitely be a big help on the offensive and defensive side. They are a talented set of kids."
Girls Basketball
Led by senior captains Callie Henderson and Kristen Wilkowski, the Rangers are looking forward to showing off their hard work and progress during their games.
Sophomore Ava Nolin highlights the great team atmosphere. Nolin's freshman year was very different due to covid.
Nolin remarks, "I can't wait to see what happens in a "normal" season and hope it is fun and productive." As there was a growth in numbers for the girls basketball program There will be both a JV and varsity team for the girls.
Ice Hockey
Through the leadership of the senior captains Jackson Bohn and Will Gravell, the boys have been putting in the time on the ice in preparation for their comeback season.
Specifically, junior left wing Owen Lenkauskas says "[they] are looking forward to their matchups against their rivals Algonquin."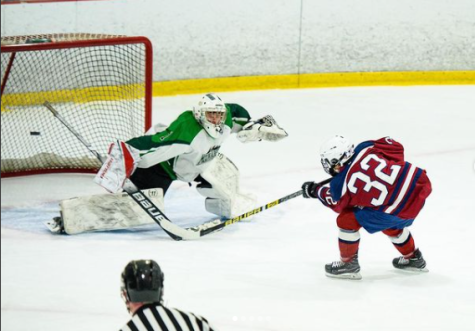 As for their goals for the season, Lenkauskas shares, "I hope we can work as a team to improve this season compared to those in the past."
You can catch the boys hockey team at Northstar ice rink here in Westborough.
Swim
The Ranger swim team had to say goodbye to several top swimmer graduates including former seniors Sam Coleburn, Mikayla Reistma, and Dan Hastings.
When talking to junior swimmer, Jack Bedar about the upcoming season, he shares, "This year is gonna be tough because a ot of our top swimmers have left, though i think that because the team is allowed to be bigger this year and that will allow for a wider range of depth and will help the program.
Bedar continued on to talk about their competition this season, "This year will be good as we are going against really good programs, specifically Algonquin because they are similar to us."
Catch the Ranger swim team at Holy Cross in Worcester for their home meets!
Indoor track
Returning from fall 2 is indoor track. The Rangers track team is a program to keep an eye on this winter as they face tougher competition in a new division.
Specifically within the new division, Westborough has their eyes set on Wachusett.
Coach Wilson, head coach of the Girls Track team shares, "Our whole goal of the season is to beat Wachusett. We beat Wachusett, and we will have a successful season."
If you go to watch one of the ranger track meets, some recommended events to watch are the highly competitive 2 mile, mile, and 55m hurdles.
Ski team
The team opens many windows for skiers to get more time on the snow and work as a team to represent WHS. The serious skiers will have a chance to compete for a spot at States and everyone will have the opportunity to better their skills on the slopes. Practices and meets will remain at Ski Ward for all ski team members.