RFAC is Back!
Rangers for a Cure is a fast-growing club at Westborough High School! Through numerous fundraisers, the club has raised over $1,000 for cancer research since its start in 2009. The officers of the club: Tiffany Zheng, Riya Parikh, Cathy Zhu, and Nalika Palayoor, are already planning several events for the 2021-2022 year, as they look to maximize their fundraising opportunities after coming back from a year online. 
President of Rangers for a Cure, Tiffany Zheng, says, "We had a difficult time last year planning and organizing the events we normally do because of COVID, and we had to be creative with virtual events. This year we want to go all out as much as possible to help raise money for cancer research."
Last year, Rangers for a Cure went remote but still had several successful fundraisers. They partnered with Rocco's Doughnut Company for a raffle and also hosted a Venmo Bingo. The two combined fundraisers raised around $400 for St. Jude Children's Research Hospital, whose mission is "To advance cures, and means of prevention, for pediatric catastrophic diseases through research and treatment."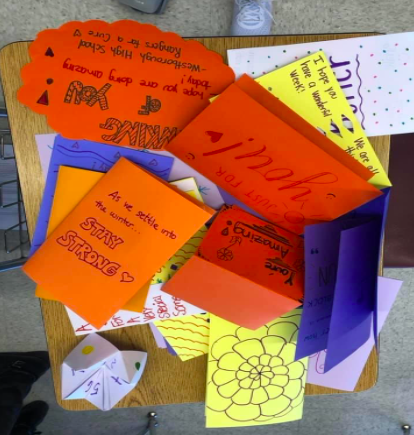 This year, Rangers for a Cure has already made cards for patients at Mass General Hospital, and they plan to make more throughout the remainder of the school year. Rangers for a Cure is also looking to host more events this year including, a Chipotle fundraiser, a walk for cancer, and potentially partnering with a sports team at Westborough High School. 
When asked about upcoming events, treasurer of Rangers for a Cure, Riya Parikh, says, "We really want to move ourselves forward in terms of fundraisers, moving more toward big things like restaurant fundraisers and collaborations with sports teams rather than your average bake sales or bingos."
Rangers for a Cure will also do its annual Christmas Ornament making. For this event, members of the club make handmade ornaments to exchange outside of Roche Brothers for donations. The money raised from this fundraiser also goes to St. Jude Children's Research Hospital. 
Currently, Rangers for a Cure hosts monthly meetings in which they plan upcoming events and make cards for local hospitals. If you are interested in joining Rangers for a Cure, reach out to any of the officers by email, and they can invite you to the Facebook Group (Rangers for a Cure 2021-2022), where they discuss the upcoming meetings and fundraisers.