Red Barn sweets and coffee are great morning treats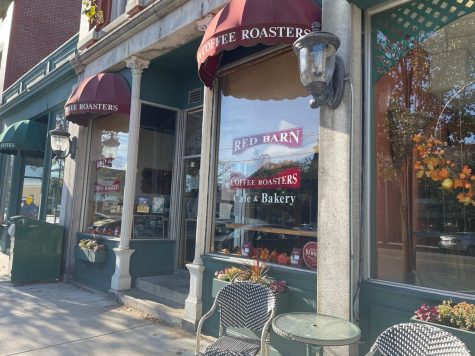 At Red Barn, they have a variety of coffee, tea, treats, and much more. The small local coffee shop can be found in the rotary of Westborough, Massachusetts. They have specials that change often and have flavors that match the season. They also have a large selection of muffins, cookies, and croissants. 
The food and drinks all have great taste and the variation of flavors is incredible. Their muffins are the ideal size for breakfast. The croissants are very buttery and cooked perfectly. The different types of croissants are bacon and cheese, egg and ham, or chocolate. They are filled with so much taste and are the perfect savory morning treat. The treats are fresh and warm out of them in the morning and are normally gone by the end of the day.
Red Barn has a big selection of coffee making it hard to choose which one to have. You can get a latte, decaf, iced, hot, and many other options. Their coffee beans are fresh and they make their coffee grinds each morning. Along with all the other amazing things about their coffee you can get delicious flavors. Some of the most popular are salted caramel, chocolate raspberry, and mocha. 
The employees are very helpful. They are very knowledgeable and efficient. They will help you with any accommodations you want and are happy to serve you.
Red Barn also offers an excellent deal where a certain number of drinks you buy can lead to a free drink. You get a small stamp sheet that can easily be put into your wallet. Every time you pay you can include it in your sheet and they will stamp a drink out of the row. 
The small but welcoming shop is both comforting and  relaxing. They have chairs and tables inside and have a few Adirondack chairs outside. To the left, there is a public seating area with much more seating and a lot of room. Red Barn´s layout works well in the smaller space. The inside and outside are ideal and match the vibe of the restaurant.
You can also go onto Red Barn's website and shop for coffee grinds, single-serve cups, and gifts. The coffee can be bought as whole bean, ground drip, ground french press, ground espresso and can be bought in 12 ounces or 5 pounds. The single-serve pods can be with 12 or 72 single-serve cups. You can also buy a black Nitro Cold Brew Can with 1, 3, 6, or 12 cans. Their gifts can also be found in stores and include coffee mugs, gift cards, and much more similar to those. 
Although the pricing is a little high but it matches the quality of the food and drinks. It is still affordable and it is worth it for their amazing service, food, and coffee. It is the perfect shop in a good location for anyone in Westborough needing the caffeine boost and a sweet treat. 
Red Barn earns a 3.5/4 star rating. 
Red Barn Coffee Roasters 
17 South St, Westborough, MA 01581
Hours: Sunday 7 AM–3 PM
Monday 6 AM–4 PM
Tuesday 6 AM–4 PM
Wednesday 6 AM–4 PM
Thursday 6 AM–4 PM
Friday 6 AM–4 PM
Saturday 7 AM–3 PM
Phone: 508-898-2091