Fantasy Football Rules Sundays
Every fall Sunday is met with millions of Americans watching NFL Sunday chewing their fingernails to the core. Not only are passionate NFL fans watching their own team, they're also watching players on other teams. Why? Because the Lamar Jackson's and Derrick Henry's of the world are playing for fans teams, their fantasy teams. Fantasy football is dominating the entertainment world right now as there are 59.3 million fantasy football users worldwide according to an Industry Demographic article.
NFL Redzone is a Verizon based paid network hosted by Scott Hansen only on Sundays that shows you every game playing and switches from game to game to show you the best moments from every game. Fantasy football has caused their ratings to skyrocket because NFL fans have a sudden desire to watch other NFL games because their players are playing. It's astonishing to think fantasy owners are excited when a player on their fantasy team scores against their home team.
WHS sophomore and fantasy football extraordinaire Nick Bellafatto says, "Watching Redzone every Sunday has increased my excitement to watch football every Sunday because I love to watch all the highlights."
Bellofatto is a very big fantasy football fan and takes it very seriously. He won the championship in his fantasy league last season and is hopeful to make another run this season.
Leagues are usually made up of friend groups that consist of 10 to 12 owners. In most of these leagues people usually chip in money or some form of reward so there is more at stake. Another way to do this is adding a punishment for the person that finishes last. The main goal is so that people never give up on their season and always remember to set their lineup.
One benefit to playing in a fantasy league is that you get to know a lot more about players on other teams. Now knowing this watching games is so much more entertaining because of the investment you put into them.
"Playing fantasy has absolutely increased my knowledge of the players in the league such as wide receiver Deebo Samuel," freshman Alec DesRosiers shares.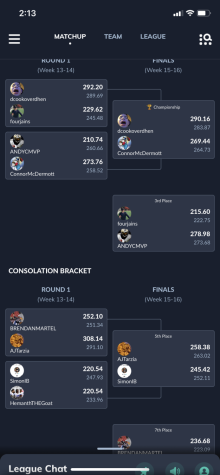 DesRosiers enjoys the strategy of fantasy football and the fact that he gets to learn about other players from teams he may not get to watch very often.
Another reason for the fantasy football craze is because it gives regular fans a sense of managing a team. Fans feel more engaged and involved in NFL news, headlines, games, etc. It gives fans reasons to follow the sport throughout the week as you want to check injury updates and whether or not your players are available to play. Fantasy football adds a whole new aspect to the game of football that fans are all in on.
Sources Used: