Small, Local Business: Vivacity–Focuses on Wellness and Mental Health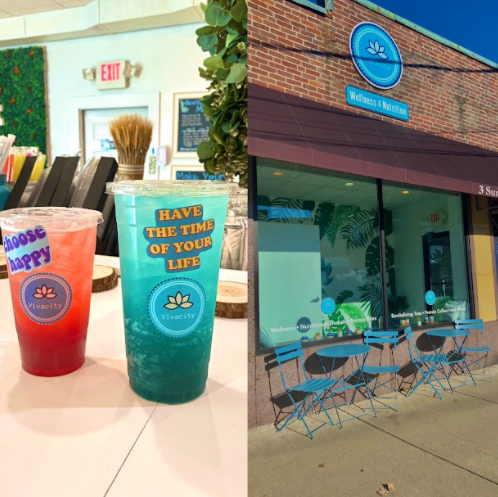 Opened on September 11, 2021, Westborough's new wellness and nutrition hotspot is located at the heart of downtown, and is centered around the mental and physical wellbeing of customers. Vivacity features a variety of nutritious food and drinks, including vitamin packed wellness teas, protein shakes, protein lattes, protein fudge, and 'proatmeal' (protein oatmeal), just to name a few. The treats served at Vivacity are quickly accessible for people with busy schedules who want to eat nutritiously. Even better-all products are sourced locally to ensure natural ingredients!
Vivacity is owned by Maddie Smith, who took her own spin on the nutritional drink craze to create a place where everyone feels welcome and mental health is prioritized. The vibrant entrepreneur came about this business through her past co-workers' encouragement. She experienced high stress as a graduate student with a job in social work at the peak of the pandemic. She and her co-workers began making teas out of her office for other staff as a way to make the best out of a trying time. This hobby was how her passion began. 
 "My co-workers were so encouraging and motivating for me to open my own business because they said I was so entrepreneurial, which is how Vivacity was created," she states.
The most popular drinks are the wellness teas, which come in tons of different flavors, like "Sunset", "The Boro", "Arnold Palmer", fat burning refreshers, and so many more. You even have the ability to make your own tea where you can customize your flavors and type of tea. 
The five-step process makes for a fun and unique experience for a drink you'll enjoy. She packs the teas with protein, vitamins, while also making for a low calorie and energizing drink. I, for one, was intrigued by the option to choose the amount of caffeine you prefer for the teas. She offers three 'stages':
Stage 1: 10 calories – 170 mg of caffeine – $5
Stage 2: 25 calories – 245 mg of caffeine – $7
Stage 3: 25 calories – 285 mg of caffeine – $9 
You may be thinking- $9 for a tea?! I can assure you that it is a generous serving and filled with tons of benefits that will keep you energized all day.
Along with the fun tea flavors, there are tons of add-ins you can include. 'BCAA's' promote muscle recovery, 'Beauty Boosters' have collagen/biotin for hair, skin, and nail health, and 'Immunity Shots' support your immune system. These options are just three out of 11 choices to make your drink more nutritious and revitalizing. 
If you're into protein shakes, you're going to struggle choosing from all the delicious options at Vivacity. Whether you like fruity flavors, chocolate, vanilla, or even peanut butter flavors, your options are endless. The sizes include a kiddie for $5, small for $7, and large for $9. And if you're looking for a protein-packed food and drink combo in the morning, the choices are endless. With their protein lattes, protein bites, and protein oatmeal, you can start your day with a nice, nutritious treat. 
Along with this, Vivacity accommodates all needs. There are plenty of gluten free and vegan options, as well as caffeine-free kid options for teas. Everyone can find something suitable for their needs here!
Not only are the products amazing, but so is the shop's aesthetic. From the outside, you are greeted by a hand-painted palm leaf mural, which is an automatic welcome to your Vivacity experience. You walk inside to see a functional bar area with tons of seating at the counter and a trendy grass feature wall. There is a couch sitting area, and also outside seating. The menu is hand printed on chalkboards with all possible information you could need. When I stood to order my drink, there were QR codes to access different websites and social media, as well as a gratitude jar right next to the counter. The decor made for an elevated experience and caught my attention as I walked around the shop.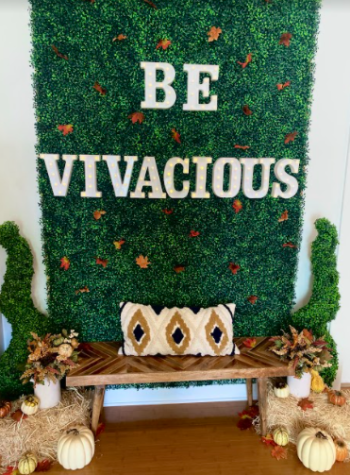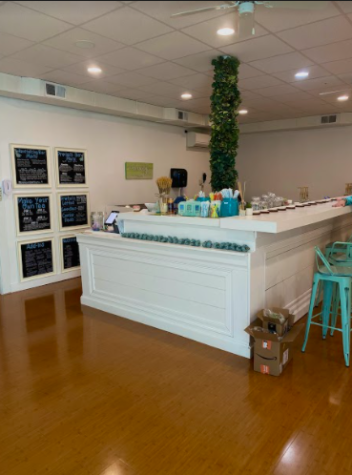 Another aspect of Vivacity is a 'community corner' that features small businesses and people who have different creation hobbies. She displays these businesses, whether it's artwork, or jewelry and sells their products through her store. The businesses receive 100% profit for whatever is sold at Vivacity, and also promotes other local businesses.
"This is us helping each other grow as small businesses. It's really nice to get their name out there," states Smith.
When asked what differentiates her store from the variety of nutrition shops popping up, Smith talks about her career path journey in going from a social worker to entrepreneur: "There's a wellness aspect focused on mental health. If you guys ever have a bad day at school, just come here and I will listen. It's just one of those things where I want people to feel safe to come in here for anything." 
She also makes note of another difference:  "Our recipes are entirely different from other nutritional shops. I don't like to push high caffeine on people, which is why I have different levels to choose from for their caffeine intake."
In the two months she's been open, her business has been doing very well, not to mention she runs the shop on her own. In terms of growing her business, she talks about her plans to create new products, including protein donuts and bagels, and hopefully adding more staff as her business heightens.
"Im at the point now where I can start hiring. I have a few high schoolers who are interested in working here already," she states.
Smith has a large social media presence, with almost 1,000 followers on Instagram since she created her shop. She markets the fun-looking drinks and puts time and care into making the social media look nice. She is very active and makes for a way for customers to connect with Vivacity outside of the shop itself.
My review:
I could tell mental health and wellness is prioritized at Vivacity from the smallest things like putting stickers with quotes on each drink, to the owner's friendliness and openness. When I visited Vivacity, I had the greatest customer service experience. I walked in to be greeted by the owner who was quick to come over to us, asking what we were interested in. I asked her for recommendations and she was very friendly and open in describing the different products and what they offer. She seemed to really enjoy what she does and was passionate about her business and also genuinely cared about her customers as well. I went for a Blue Margarita tea, which was sweet, energizing, and refreshing. A huge part of my enjoyment of Vivacity came from the customer service and how sweet the owner was.
Vivacity is located at 3 Summer Street, Westborough, MA.
Monday 7:30AM–5:30PM
Tuesday 7:30AM–5:30PM
Wednesday 7:30AM–5:30PM
Thursday 7:30AM–5:30PM
Friday 7:30AM–5:30PM
Saturday 9AM–4PM
Sunday Closed
Phone: 508) 329-1399
Website: https://www.therealvivacitynutrition.com/ 
Email: [email protected] 
Facebook: Vivacity Nutrition https://www.facebook.com/therealvivacitynutrition/ 
Instagram: @therealvivacitynutrition https://www.instagram.com/therealvivacitynutrition/