Engineering and Unicorns: Science Teacher Ms. Chaves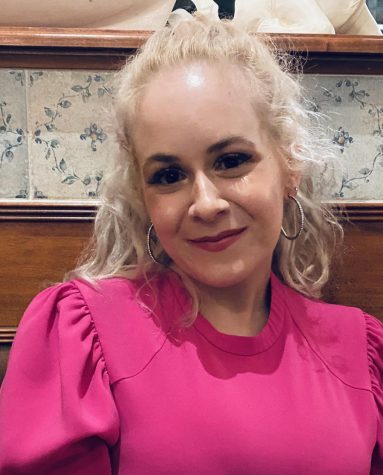 If you pass by Ms. Chaves' Natural Science and Engineering class, you can find her teaching the curriculum while adding her own uniqueness and personality to it. She is currently in her third year of teaching at Westborough High School. She started as a long-term substitute in 2018 before teaching Natural Science and Engineering to freshmen.

Ms. Chaves earned her undergraduate degree from Boston University. She studied Pre-Medical Science and International Relations and minored in Spanish. Originally, Ms. Chaves did not intend to become a teacher. She was intrigued by medicine and thought that it was the career path she wanted to take. She then attended the University of Vermont and for her graduate degree in science and after some time there, she realized that being in the classroom and verbalizing science was something she enjoyed more than the clinical work of medicine.

The non-repetitiveness of teaching is what caught her attention and is what made this job different from others that she's had. It's a job in which plans are constantly changing based on the situation and surroundings.

 "Education is always changing and it's challenging. Once you're in the classroom, you're doing your own thing and the next day is going to be something different. It's always evolving and it's something that's fun for me," Ms. Chaves comments.

As well as that, watching her students motivates Ms. Chaves to continue doing her best at her job. The environment and the smiles on kids' faces are a worthwhile part of the job as she enjoys getting to know her students.

She shares, "It's really rewarding and it can be stressful to get to know a ton of students, but you get to spend time with these kids and become connected with them. The drive that students have to do better and achieve their goals is still visible after a few hard years due to Covid. My students are trying hard and their happy faces have been great to see."

She feels like the best part of being a teacher is getting to see when a student understands the material and when they help her learn and improve. She feels as though she is always learning how to be better and be adaptive as a teacher.

One freshman says, "Ms. Chaves is always ready to help you if you're struggling, and will try and show you where you can get better or where you went wrong. She welcomes questions which help us all grow as students." 

Ms. Chaves hopes for her class to be helpful and for her students to be comfortable with asking questions in class.
Sophomore Neena Jayavendra says, "Ms. Chaves is a friendly and approachable teacher, and if we stayed after school to review for a quiz/test, she would be very helpful and give us a good idea of what we are expected to know for the quiz/test. I also liked how Ms. Chaves would reply to my emails promptly, and her answers would be helpful, especially if I was asking a question about something that I was stuck on. She also shared her love of unicorns with us."
Ms. Chaves comments that the community at Westborough High School is amazing and is quite valuable. Everybody has the intent to do well, but at the same time help one another out.
"The science department is all very close. We all talk over breaks and we have a good time planning out work. The students are all very kind and they communicate with everyone politely."
Outside of the classroom, you can find Ms. Chaves spending time and relaxing with her dog, Lincoln, a Great Dane-Labrador mix, and her cat, Ollie, who she says are best friends. Practicing the piano is not only an activity she loves as her dog chooses to lie under her feet and listen to her play. She can also be found working out after school a few times a week as she states it helps with decompressing following a long day of work.
In her free time, she can be found gardening. Two coffee plants have been taking up space in her home and she hopes that at some point, they will give her tangible coffee.
"I'd have my own farm stand and I'd be gardening and I would probably have a couple of goats," Ms. Chaves says when asked what she would be doing if she wasn't teaching.
Whether it's Natural Science and Engineering or another science class, in 10 years, Ms. Chaves hopes to still be teaching, living locally, and sharing her love for unicorns with her students.
She says, "I like to believe in a little bit of magic. Cultures all around the world have stories about unicorn-like animals, and it's fun to believe in something that may or may not be real. There are a lot of really interesting stories, including that unicorns possess healing powers, or are a sign of good luck. To me, unicorns represent fierce independence, happiness, and a little bit of sparkle."