5 Fall Activities You Don't Want to Miss
Fall in New England is a time of year when many decorate their homes with orange, yellow, and red decor. Halloween and Thanksgiving are the most celebrated fall holidays in the United States. These holidays bring people together and create an exciting time of the year.
When asked the first thing that comes to mind when you think of fall, WHS French teacher Madame Brown shares "The light and the colors of the leaves."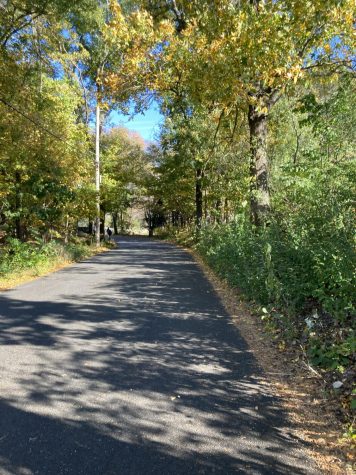 1. Leaf peeping is a common activity in New England. Many people travel to New Hampshire and Vermont to look at the foliage. (fall-foliage-in-new-england)
Fall has many activities and festivities within it even besides Halloween and Thanksgiving. Some favorite activities include apple picking, pumpkin carving, and watching fall movies.
2. Classic fall movies include the Charlie Brown movies, It's the Great Pumpkin Charlie Brown and A Charlie Brown Thanksgiving. Made in 1966, It's the Great Pumpkin Charlie Brown will be aired on October 24 at 7:30 on PBS (pbs). A Charlie Brown Thanksgiving will be aired on PBS as well on November 22nd this year.(pbs)
3. Apple pie was rated the 4th most popular dessert on Thanksgiving in 2019 by The Atlantic Journalism Constitution. Apple is a common part of fall with apple picking. The apple picking season is at its peak with it starting in late August and ending in early November. Many farms near Westborough offer apple pickings like Tougas Family Farm (http://tougasfamilyfarm.com/) and Nourse Farm (https://www.noursefarm.com/retail-store). Apple picking is a great activity for all ages and especially for those who love making apple treats.
By the way, the first three desserts are: pumpkin pie, sweet potato pie and pecan pie.
4. Pumpkin carving is another activity that many participate in around Halloween. Some popular carvings include faces, cats, and abstract designs. Harveys Farm (https://www.harveysfarm.com/) in Westborough is currently selling its pumpkins; Nourse Farm is also selling their pumpkins from late September to late October. Carving tools can be found at most grocery stores.
5. With pumpkin carving comes Halloween. A night for trick or treating and dressing up. Frequently seen costumes last year were Harley Quinn, rabbits, clowns, angels, and Fortnite characters. Most costumes can be created at Party City, Spirit Halloween, and Amazon. Cruella De Vil and Squid Games contestants are projected to be some of the costumes seen this Halloween by goodhousekeeping.com.
Sources Used:
Food:
https://www.ajc.com/lifestyles/holiday/thanksgiving-2019-most-popular-desserts/ttxmFtxmPjMqx27ek0vbHI/
Popular costumes:
https://www.goodhousekeeping.com/holidays/halloween-ideas/a29212306/pop-culture-halloween-costumes/
https://www.allure.com/story/most-popular-halloween-costumes-google-list
Places to visit:

https://www.noursefarm.com/retail-store
https://www.harveysfarm.com/
https://www.townandcountrymag.com/leisure/travel-guide/a10263833/fall-foliage-in-new-england/
Movies:
https://www.pbs.org/articles/2021/10/how-to-watch-its-great-pumpkin-charlie-brown-on-pbs/
https://www.pbs.org/video/charlie-brown-thanksgiving-promo-u1nh0w/