Small Business Spotlight: Mauro's Village Cafe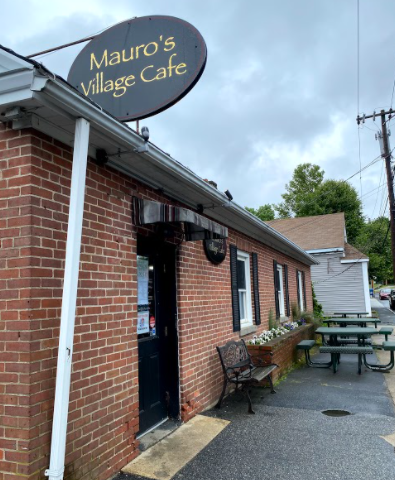 Mauro's Village Cafe, located conveniently in the quaint downtown area of Southborough, is the perfect place to enjoy a delicious meal at a very reasonable price. My experience at Mauro's was exceptional in all aspects: service, cost, taste, and overall environment. 
My friend and I walked into the charming brick cafe, after having a great parking experience. Outside, it is a rectangular building decorated with flower boxes and outdoor patio seating. It was 9:30 a.m. on Saturday, and the restaurant was busy, but not packed and overwhelming like many diners can be. 
We were immediately greeted by a glass case full of baked goods and an open dining area where friendly staff hustled throughout. We were able to seat ourselves with options to sit at their diner counter or at a table. We chose to sit at a little table close to a window. 
Right as we sat down, we were greeted by our waiter, who asked us how we were doing and what we would like to drink. The fast paced atmosphere was inviting and different from many diners, where you sit waiting around for your server to come help you. My friend and I both ordered water with lemon.
 Mauro's menu is filled with both breakfast and lunch options. It is organized and visually appealing to match the diner's atmosphere. With options from eggs, omelettes, waffles, french toast, breakfast burritos, benedicts, and tons of sides for breakfast, it was definitely a difficult choice. There were even specials that were easy to view in big writing above the counter. I went with a cheddar cheese omelette, made with three eggs, and came with toast and homefries. They have a wide variety of bread for toast (I went with rye), and the home fries came either grilled, or deep fried (I chose grilled). My friend ordered a belgian waffle with a side of bacon.
The food came out quickly, and the helpings were extremely generous. My friend loved that the belgian waffle was in the shape of a heart, and she mentioned the crispy bacon's unique taste. The waffle, other than being heart-shaped, was fluffy, a great size, and cooked to perfection. My omelette was delicious! There was a perfect ratio of egg to cheese and the eggs were cooked well: not too tough, but not super runny. The grilled home fries were so savory and had a delicious flavor to them. 
Though I didn't eat lunch at Mauro's, I saw the extensive lunch menu, where there were tons of sandwich, soup, and salad options that are all customizable. 
As for prices, my omelette was reasonable at $10.95 for a heaping portion. My friend's giant belgian waffle was $8. The bill was just under $20 for two meals. We left a good tip because the service was great. 
Whether you're looking for a Sunday brunch, or a quiet weekday lunch (they close at 3 p.m. everyday), Mauro's is a great place to stop by before a sports game or practice for a quick meal. They have options for both dining in, take out, and even GrubHub delivery. I encourage you to try!
Mauro's Village Cafe
2 Main St, Southborough, MA 01772
Monday-Friday: 6am-3pm
Saturday: 7am-3pm
Sunday: 7am-2pm
http://www.maurosvillagecafe.com/ 
(508) 485-8730