Netflix Teen Show Grand Army is a Must Watch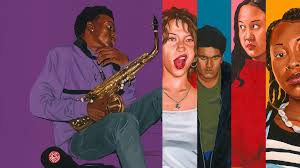 Grand Army, which can be streamed on Netflix, is a fictional series that simultaneously follows the stories of many Brooklyn teens who attend the largest and most prestigious high schools in the city. Each student lives a very different life, yet all their stories manage to cross over in some way or another.
The show as a whole touches upon many sensitive topics including sexual assault, terrorism, racial bias and profiling, poverty, sexuality, sexism, and the faults in the criminal justice system.
The story line arguably follows Joey and Dominique the closest; although there are a lot of characters introduced throughout the season. Joey seemingly has a good life excluding her relationship with her father. She has a very close friend group but is sexually assaulted by two of her closest guy friends. Her whole world seems to crumble around her. Meanwhile Dominique is facing her own struggles of trying to support her family while also trying to pursue her dreams of being a psychologist all while avoiding falling into a stereotype for a woman of color.
Grand Army does a great job of showing different teenage perspectives. Within each perspective they show the person's faults as well as the wrongdoings done to them. This creates an element of humanism that is essential in character development. There is no definite protagonist or antagonist. Your thoughts on each character will depend on your own personal experiences and how you relate to them.
Additionally, the handles sensitive topics in a respectful and informed way. Some issues are highlighted more than others, but they all are demonstrated. For example Joey's storyline was recurring in every episode whereas what happened to another character named Owen consistently matters to only a few people and was brought up a handful of times.
The show takes place in 2020 but not quite the way that we know it. There is a brief reference to the coronavirus but it hasn't become a pandemic. There is also reference to George Floyd during a walk out when the students start chanting "I can't breathe." This makes the show very relatable because what's happening in the series is what we are dealing with in real life.
Although the plot can be a little tricky to follow due to the large cast, Grand Army has been able to give more people a voice than other shows. The season is 9 episodes, each one lasting about 50 minutes. There are talks about a release of a second season in 2022. Grand Army is absolutely worth watching, and is intended for mature audiences. I would give it 4 out of 5 stars.