Swanski's Bakeshop: Your new spot for tasty treats in Westborough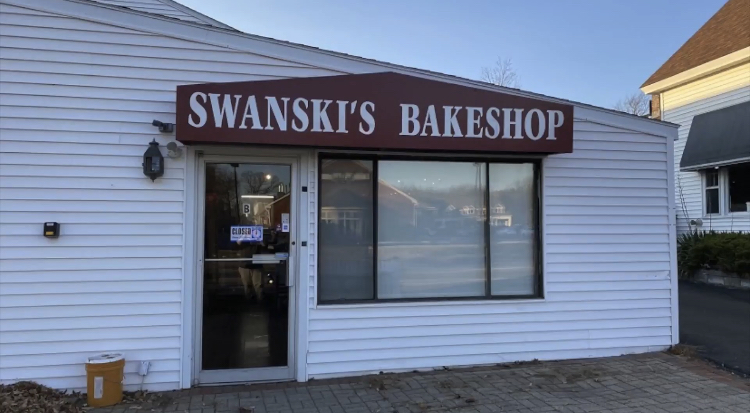 Caroline White '21, Co-Editor
December 21, 2020
Craving some delicious baked goods? Looking to support a small local business? Located in downtown Westborough, the recently opened Swanski's Bakeshop is the perfect spot to grab a fresh loaf of bread or a sweet treat to satisfy your sweet tooth.  Stepping through the doorway, you'll be greeted by friendly employees and a warm, welcoming atmosphere. In the glass cases are a variety of tasty breads and pastries, from scones to cheesecake to focaccia. Recommended by one of the cheerful employees, I decided to try the coffee cake, orange cranberry scone, and chocolate chip muffin. 
The coffee cake was light and crumbly with a sugary cinnamon top. The swirls of cinnamon and walnuts spread throughout the cake created the perfect texture; soft with the occasional crunch. The cinnamon flavor was present, yet not overpowering. Paired with a warm cup of coffee, this is a delicious breakfast treat.
Next was the orange cranberry scone. Each bite was a delightful combination of the crunchy exterior and soft interior. The cranberries were bursting with flavor, complemented by the orange zest. For those who crave a more fruity pastry, Swanski's cranberry orange scone will not disappoint. 
Last but certainly not least was the chocolate chip muffin. Swanski's bakeshop has somehow managed to take the flavor of a chocolate chip cookie and put it into a muffin. Every bite of this melt-in-your-mouth treat was creamy and chocolatey, filled with chocolate chips. This may have been one of, if not the muffins I've ever had. 
For the quality of the baked goods, the prices were surprisingly low. Swanski's Bakeshop is definitely a Westborough must-try. Whether you're looking for a pie for the holidays or a scone for breakfast, you will not be disappointed. Follow Swanski's Bakeshop on Instagram and Facebook for their menu and special weekly items. You can visit them at 72 E Main Street in Westborough, on Thursdays and Fridays from 6AM to 2PM and Saturdays and Sundays from 8AM to 2PM.