Westborough Community Unites to Help During Covid-19 Pandemic
As of April 14,there were 41 active cases of COVID-19 in Westborough and 66 to date. In Worcester County, there are 2,128 cases and in Massachussetts there are 26,867.
The popular Facebook group, Wicked Wise Women of Westborough, has had an outpour of individuals who are at home due to the virus and now are using their spare time to help out the community.
One resident, Meghan Lindsey posted that she was making cloth face masks for locals as well as "ear savers" for medical staff in the area. "Ear savers" are extra pieces of cloth or ribbon that have buttons sewn in the fabric to keep the masks elastic bands from hurting people's ears. This caring lady is only one of many who are taking their own time and money to help flatten the curve.
Another initiative taken by community members Monika Turek and Roberta Brown has been to create a list of contact information for local restaurants that are open for take out. This idea has been praised by hundreds of families who want to help support the town's small businesses during this stressful time.
Furthermore, the Westborough Rotary Club has completed a widely successful task: creating and assembling medical grade masks and face shields. A member of the medical staff at Milford Hospital had reached out to president of the club, Elliott Rittenberg about their dire need for face shields. Fortunately, the community was able to produce close to 200 of them.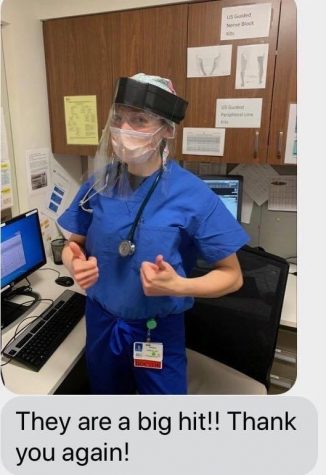 Finally, one other kind gesture has been by resident Sheetal Koparde who organized a collection of donations to go to the Westborough Food Pantry. The local pantry needed food and was also asking for grocery store gift cards. By posting her request in the Wicked Wise Women Facebook group, she was able to obtain a huge response from her neighbors.