WHS Students Travel to the Galapagos Islands
On Thursday, February 13, 33 eager Westborough High School students along with seven chaperones departed for the adventure of a lifetime. Dr. Ryan, a WHS biology teacher as well as an avid traveler and EF cooperater, had been preparing for his second to last "Charting the Galapagos Islands" trip for more than a year at this point.
WHS Junior Meghan Kincaid commented, "We had to wake up really early everyday… but I would say it was all worth it because we got to travel each day to the Islands and understand the true culture and environment of the Galapagos Islands."
From touring the old city of Quito, Ecuador to snorkeling off Isabela island to observing the large Tortoises just as Charles Darwin had, this trip is definitely one for a traveler who enjoys a jam-packed schedule.
WHS Junior Julia French shared, "These islands aren't going to be around forever; it's really special that students like me got the chance to explore such an unique culture and environment."
Regarding the trip's connection to science, French said, "It has been such a center of scientific discovery. It truly changed me. I was walking on land that potentially won't be here anymore at some point in the future."
Tour guide Andres (or Ando as his friends call him) is a longtime friend of Dr. Ryan who drafted an organized, fun, and safe schedule for the many days on the islands. The other tour guides were Jorge, Jimmy, and Joel. The group of forty had the opportunity to build relationships with true Ecuadorians who were happy to share their life in this beautiful country.
Dr. Ryan shared, "It's very hard to choose a favorite part because there's so much awesome that happens! It is such an iconic place for a biologist to go and I've always been excited to go every few years. Now though, I go to see the student's faces when they see it."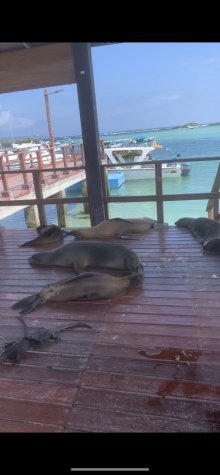 WHS junior Caroline White reflected, "Going on this trip honestly felt life changing. It was so nice to be off the grid and away from the rest of the world. The part that amazed me the most was the variety of wildlife we saw, and how close we were able to get to the animals…"
Going to this country, seeing the people, their lifestyles, the beauty and kindness of this culture, has truly changed me as well. Along with the obvious and irreplicable scientific aspect of visiting Darwin's observatory and seeing animals like no other, the cultural aspect of this trip cannot be overlooked. Ecuador and the Galapagos are extraordinary places on this earth that must be preserved.
WHS Junior Tim Mosher commented, "My favorite part of the trip would probably be snorkeling in Isla Isabela. We got there after a hot hike and everyone wanted to get into the water after that. What I didn't realize was that I was going to see many indigenous species inches away from my face. Ando was there to help identify everything in the water and keep us safe while still letting us dive and get close to sting rays almost the size of me. I couldn't believe what I saw. We swam with sea turtles, penguins, and massive colorful starfish right by our side. It was an experience that I will never forget…"
Dr. Ryan will be leading another EF trip, "Iceland: Geysers and Glaciers" in February 2021, which will likely be equally as remarkable as what I've just experienced. His final "Charting the the Galapagos Islands" trip is coming in February Break 2022.
Contact Dr. Ryan at [email protected] for information on upcoming trips.