WHS Student Council: A Successful Spring State Conference
The Westborough High School Student Council has once again returned from a very successful and productive 43rd annual Massachusetts Association of Student Councils (MASC) Spring Conference. About 1,020 students, 18 of which were from Westborough, attended this year's statewide conference in Hyannis, Cape Cod. The conference which took place this year from Wednesday, March 4 to Friday, March 6 consisted of three days filled with workshops, keynote speakers, and leadership activities. From WHS, three seniors, five juniors, five sophomores, and two freshmen attended the conference along with advisor Mr. Teevens.
With this year's theme being MASCer Chef, student leaders, coming from over 80 different schools, were encouraged to share their "home-cooked leadership" with others. Eddie Slowikowski and Caleb Campbell were this year's keynote speakers. 
Each year at the conference, schools elect the new MASC State Executive Board. Although no one from Westborough ran for a position this year, sophomore Skylar Gravell has hopes to run for a state position in the future. Gravell who currently serves as a delegate on the Central District Massachusetts Associations of Student Council (CDMASC) board and is running for CDMASC vice president this spring shares, "It was such an amazing learning experience to be able to talk to all the candidates and get to know their campaigns. They gave me amazing advice especially on how to time manage planning my campaign." 
Each year at the conference's award ceremony, councils and students are recognized for their hard work. Westborough was recognized for two separate awards as an entire council in addition to three individuals being recognized as Commonwealth Award recipients. This award recognizes outstanding student council members from MASC member schools on the basis of leadership, foundation, and citizenship. This year, freshman Kylah Rice, sophomore Julia Desmond, and junior Owen Kelly received a Commonwealth Award on behalf of Westborough.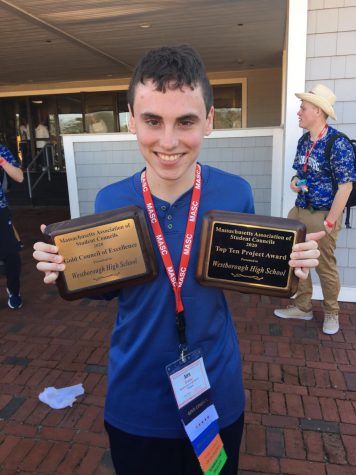 As a council, WHS received the Gold Council of Excellence Award which recognizes and rewards the achievements of outstanding student councils in the MASC organization. Each year a book of excellence is submitted by the student council's historian. This year, sophomore Alex Goldberg worked very hard to put together and submit the binder. Goldberg states, "We should all be so proud of the work that we have done as a council and school community over many years to achieve gold council status within MASC."
Westborough High School also received a Top Ten Project Award for its Mental Health Week project. This award is given to ten student councils who have been determined to have held and submitted one of the ten most outstanding projects during the school year. Although projects from Westborough have been submitted for this award in the past few years, this is the first time WHS student council has won the award since 2015. President of WHS Student Council, Miara Sasdi, shares, "Winning Top Ten was a dream accomplishment. We put a lot of effort into this project, and it wouldn't have been possible without a lot of people. To be honest, I went in with low expectations of winning the award so it was a really nice surprise, and as a senior, it was a great way to end my last state conference. Our whole council is very deserving of it. I'm grateful to have been so involved with the project and to be leading the council this year. Even if we didn't win the award, I was already so proud of the impact the project had on our school and community."
The council came back from the conference with new skills and ideas that they hope to use in their future events and projects. Events the council is hoping to host for the remainder of the year include a color relay, an annual yard sale, and a few fundraisers.