Album Review: YoungBoy drops second album: Al YoungBoy 2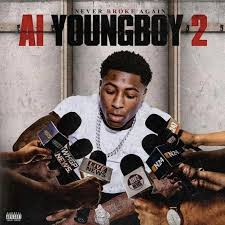 Daphne Cabrera and Alyssa Maggioni
January 6, 2020
Born on October 20, 1999, in Baton Rouge, Louisiana, 20-year-old rapper Kentrall DeSean Gaulden, formally known as NBA YoungBoy recently released an album titled AI Youngboy 2. After being sued by the NBA for his name he is now known as YoungBoy Never Broke Again.
 This album is Youngboy's second Top 10 on the Billboard 200 Chart. YoungBoy has a unique way of conveying his depressing emotions with upbeat rhythms, writing his songs almost like a journal entry through his lyrics. This is an album worth listening to, specifically for an older audience due to the explicit language and violent descriptions. However, the overall message that YoungBoy is trying to portray is significant and emotionally intense.  
His songs reflect upon his upbringing which he tends to rap about. Some of the topics include his childhood, current feelings, and relationships. He draws a lot of inspiration from his hardships as a youth. According to an article by TheFader, when YoungBoy was eight his father was sentenced to 55 years in jail for a robbery gone wrong and his mother moved out of the neighborhood leaving him with his maternal grandmother. 
Not long after, his grandmother passed away from heart failure in 2010. Rapper OG 3Three's family took him in. YoungBoy dropped out of school in the ninth grade to pursue his music career, but was soon arrested for robbery and was sent to a detention center in Tallulah, Louisiana. His fans question the scars on his face, in which he states in an interview conducted by DJ Smallz Eyes 2 on Youtube that his neck broke as a toddler from wrestling. The injury required a head brace until the spine healed. The brace left noticeable permanent scars on his face. 
In the song "Lonely Child" on the album, YoungBoy raps "I call Monique my mama, but Lord knows I need Sheronda, who wants someone to help him out, mind in a rage, I'm way too young to feel this pain." 
He explains that Monique, 3Three's mom was like a mother figure to him. However, he claims that what he really needed was his birth mom Sheronda when he was growing up. 
In the next song "Where the love at", YoungBoy raps "I ain't know my age, he was 16, they killed Lil Dave, where's the love when a child gets murdered, Or a cop gets knocked down, black lives not now." 
He brings up the topic of oppression and racism in the song and talks about how his cousin was killed. Youngboy is trying to send a message to stop racism and speaks about his personal experiences with discrimination. 
In another song called "Rebels Kick It," Youngboy says "And it was something like Luther King, wanted to keep the peace but couldn't." 
He introduces the idea of peace within everybody. Although the album gives off the illusion that it does not give a good message, by analyzing the lyrics, it is easy to see the true emotions he is facing. 
If you are looking for an upbeat and interesting album AI YoungBoy 2 is highly recommended.
Sources Used:
https://genius.com/Youngboy-never-broke-again-life-lyrics
https://www.thefader.com/2017/10/10/youngboy-nba-never-broke-again-cover-story-interview
https://www.forbes.com/sites/hughmcintyre/2019/10/20/youngboy-never-broke-again-charts-his-first-no-1-with-new-mixtape-ai-youngboy-2/#156d37a73c42