Jesus is King: The Conclusion To Kanye West's Journey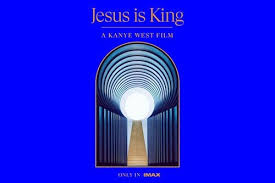 Sam Schiffman '21
November 13, 2019
After the long wait for Kanye West's highly anticipated ninth solo album, fans were disappointed when the album did not drop at midnight on Friday, October 25. It was not the first time that Kanye's promise of an album had fallen through. Jesus is King was set to release on September 27, but was then delayed indefinitely.
Fans were reminded of last year when West announced his new album, Yahnd, which was set to drop in September of 2018, and then again on Black Friday. On October 21 of this year,  Kanye tweeted that the album would come on the 25th, but did not specify when. While albums usually release at midnight, fans had to wait until noon on the 25th to purchase the album.
The 11 track LP has guest features from Ty Dolla $ign, Ant Clemons, Clipse and Fred Hammond. The album opens up with a melodic orchestra of West Sunday Service Choir, and introduces the album's gospel theme right from the beginning. The album then transitions into one of my favorite songs, "Selah." This song makes you feel as though you're ascending up a staircase into the sky. With the bridge repeating the lines "Hallelujah, Hallelujah, Hallelujah," fans are again reminded of the album's gospel influences, but this time in the form of a symphony of heavy drums and organs.
Other tracks on that album that stood out to me were "Closed on Sunday," "Use this Gospel," and "God Is."  While "Closed on Sunday" may not have the lyrical substance that some rap fans may expect, such as "Closed on Sunday, you my Chick-Fil-A." That said, the production on this track is still very good, which is to be expected from a Kanye song.
On "Use this Gospel," Kanye enlists the help of rap duo, Clipse, which consist of West's close friend, Pusha T, and his brother No Malice. The track opens up with a consistently high pitch. The track then proceeds with Kanye humming, followed by his verse in which he raps, "Use this gospel for protection, It's a hard road to Heaven" as again he includes the theme of gospel theme. I would say this song is easily my favorite on the album. The beat matches with Kanye's humming, along with the guest verses from Clipse all come together to make this track so great. 
Looking at this album through a critical lens, it probably doesn't find itself in the top 5 best Kanye albums. The songs are a bit too short and the album sounds unfinished as a whole. Whether that is due to it being rushed or if this is the sound Kanye decided to take with this album. That said, certain aspects of this album are amazing, such as the grand production value. While the lyrics may lack some substance, Kanye still puts out his raw emotions, just as he did on his 2018 album "Ye." One thing that surprised me with this album was that Kanye did not swear once, a rare thing for a Kanye album, taking him back to his "808 and Heartbreak" days.
If I were to give this album a score, it would be an 8.4/10. Ever since The Life of Pablo, I have been a huge Kanye fan and entranced by his music. With every album he creates, you can always expect it to be fresh and new. While listening to his discography, you can't help but notice how different and unique each album is from one another. In that variety, West incorporated production that fits his style, whether that is the Jazz instrumentals on Late Registration or the 808's on 808 and Heartbreak. On Jesus is King, West uses heavy drums and warm organs to give you the strong gospel feel.
I thoroughly enjoyed this album and I'm excited to see where West takes his music next.